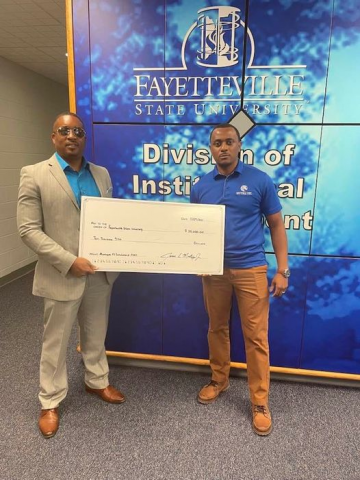 - December 16, 2021 /PressCable/ —
Raleigh NC – F7 Development corporation announced it has awarded $10,000 to Fayetteville State University Foundation, Inc. for the Fiscal Year 2021-2023. The scholarship award was established in a meeting with Fayetteville State University's Associate Vice Chancellor for Development Chris Davis and James Montague Jr. F7 Development's CEO, James Montague Jr. presented a check to establish the James (Monte) Montague Jr. F7 Development Scholarship Fund for undergraduate students. The purpose of this fund is to award scholarships to students enrolled full-time at Fayetteville State University. The F7 Development Annual Scholarship supports students interested in majoring in Entrepreneurship or Management within the Broadwell College of Business and Economics.
"We're excited to see the scholarships come to life and make a tangible impact in students' lives, the scholarship is designed to reduce and help eliminate the disproportionate debt students face, as well as positively affect the pathway to the advancement into entrepreneurship or management. We are proud to collaborate with Fayetteville State University Foundation and its students, as they build fulfilling careers and leaders within the industry. We want to be a champion of our future leaders, give back to our community, bridge the knowledge gap, and enhance educational opportunities as well as further access to education. We recognize the need to address systemic inequities in education and are actively working to create opportunity through philanthropy and build a more resilient economy," said James Montague.
About F7 Development Corporation F7 Development Corporation is a global real estate and a general contractor created to develop the next generation of leaders through unique, immersive, and meaningful experiences in real estate development, technology, and community service. In collaboration with leading business partnerships around the globe, F7 Development Corporation develops, owns, and operates property throughout the United States. F7 Development decisions are guided by market-leading research and a commitment to precise execution while remaining entrepreneurial in its approach to opportunity. F7 Development Corporation reinvests in the community, connects young people to diverse opportunities that motivate them to learn, to develop their skills and interests in pursuit of careers in real estate development and entrepreneurship.
Release ID: 89056868