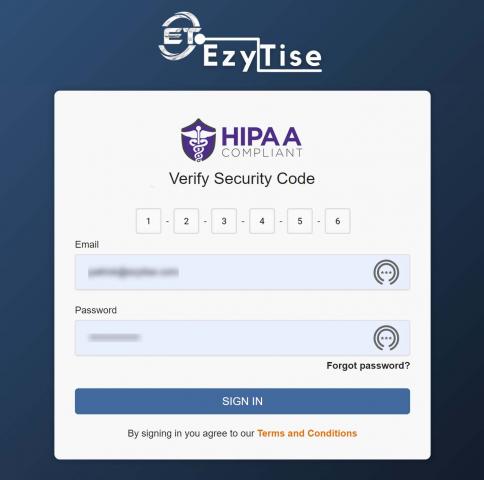 - November 29, 2021 /PressCable/ —
EzyTise has announced a new upgrade to their popular Sales & Marketing Automation Software CRM.
EzyTise Automation Software/CRM has multiple new features designed to make medical practices that use Software CRM meet the standards and be HIPPA compliant. Medical practices like Medical Sales Organizations, Medical Sales Professionals, Dentist, Doctors, Chiropractors, and many other Medical Small Local Businesses are required to adopt HIPPA compliant tools including HIPPA compliant Software, CRM to help secure and protect patient's confidential information when storing data.
EzyTise' s latest upgraded features are many including:
Advanced HIPPA & Patient Data Security Compliance – with additional layers of full encryption to protect patient's confidential and personal information when information is exchanged via forms, surveys, website, online calendars, and other type of online data storage.
Two Way Authentication Factor (2AF) – Another way to protect their Software CRM users access to their database with advanced authentication login credentials. Making it more secure to authenticate users.
New API O-Auth2 Based Integration – Their much powerful and secure API integration to help protect patient's data.
A full list of changes to EzyTise Automation Software can be found on the company website, https://ezytise.com.
The changes in this Sales & Marketing Automation Software CRM. were bought about due to to become a HIPPA Compliant Software. As part of an ongoing effort to improve the user experience for EzyTise Automation Software, customers can expect regular updates both now and in the future.
Jonathan Fox, Business Owner , had this to say:
EzyTise has done a great job with their HIPPA compliance upgrade, making our patient's confidential data much more secure. We wanted to adopt a HIPPA compliant software.
Current customers interested in learning more about the upgrade can do so directly on the website at https://ezytise.com. New customers can also use the site to purchase the latest version of EzyTise Automation Software.
Release ID: 89054385