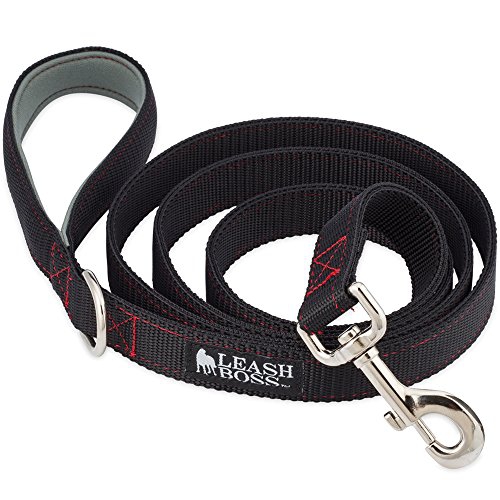 - August 29, 2016 /PressCable/ —
Customers with large dogs looking for the latest extra thick dog leash are now able to purchase the Heavy Duty Double Ply Dog Leash with Padded Handle by Leashboss. Today Paul Sharer, Owner at Leashboss releases details of the new product.
The Leashboss Heavy Duty Double Ply Dog Leash with Padded Handle is designed to appeal specifically to large dog owners and includes:
– Two layers of 1 inch black nylon webbing sewn together – This feature was included because it adds confidence in the durability of the product. This is good news for the consumer as it gives them greater peace of mind while walking their large dog.
– Padded handle – This was made part of the product as it gives a soft layer of protection for the hand. Customers who buy the heavy duty dog leash should enjoy this feature because the padded handle will cushion their hand when their big dog pulls.
– D-ring located below the handle – Leashboss made sure to make this part of their extra thick leash as it provides convenience. Customers will likely appreciate this because it will give them the ability to attach their keys or dog bag dispenser to the leash.
Paul Sharer, when asked about the Heavy Duty Double Ply Dog Leash with Padded Handle said:
"We're confident that we've made the best double thick dog leash on the market. This six foot leash looks and feels amazing. It's designed to handle big and strong dogs. Our customers love our level of quality and craftsmanship. We think this leash will exceed their expectations."
This is Leashboss's sixteenth release of a new product and Paul Sharer is particularly excited about this release because it is an excellent extra thick leash for large or strong dogs.
The Leashboss Heavy Duty Double Ply Dog Leash with Padded Handle is now available from Amazon: click here
Those interested in learning more about the business can do so on the business website at https://www.leashboss.com
Release ID: 129932