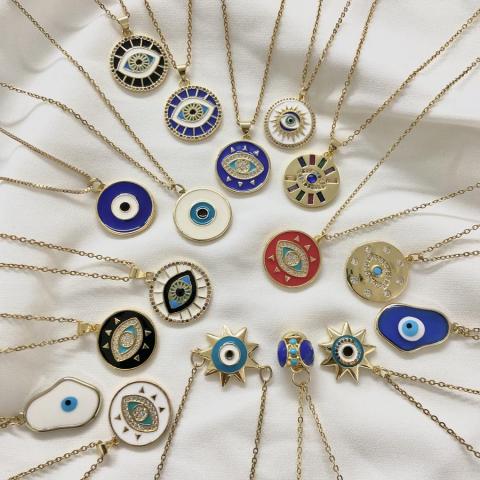 - October 18, 2021 /NewsNetwork/ —
Upakarna's handcrafted jewelry is known for its modern style. The brand's latest release is the evil eye necklace collection consisting of stylish handmade jewelry. The evil eye, traditionally blue and white, is an eye shaped design meant to guard and protect the wearer from evil. Upakarna's evil eye necklace collection has been curated to showcase this power through the grace of elegant jewelry.
More details can be found at https://upakarna.com/collections/evil-eye-necklaces
Originating in Greece, the evil eye, is an envious look or a stare with dislike directed at someone in order to bring them bad luck. The belief in the evil eye mati dates back to Greek antiquity and has remained a popular talisman to this day.
Upakarna has launched a curated collection of evil eye jewelry, inspired by the quasi-universal symbol of protection. The traditional colours of the evil eye, shades of blue and green with white, can be found in different designs and colours ranging from silver to gold evil eye necklaces.
Created from the founders, Yash and Priyal Shah's, love for modern, aesthetic jewelry, these minimalistic designs, inspired by elements of nature and animals. Prior to founding Upakarna, both Yash & Priyal had experience working in the jewelry industry. With their combined expertise, they assure customers of stylish designs versatile to wear for work or everyday use.
Amongst the most popular is the Minimalist Evil Eye Necklace with 12 different variations to choose from. This evil eye necklace, rated 4.5 stars by 70 happy customers, is made from anti-tarnish alloy material and is available in gold colour.
The Ocean Evil Eye Necklace Collection is the favourite for those who like the blue hues of the oceans and want to add the evil eye charm to their collection. This unique evil eye fashion accessory has been inspired by the calmness of the ocean and has been combined with the classic evil eye design for the wearer's protection from evil.
With over thirty different designs, the evil eye necklace collection has a special design for everyone. From the safety pin charm evil eye necklace to the studded sombre evil eye necklaces, this collection is ideal for both a special occasion and for daily use.
To learn more visit https://upakarna.com
Release ID: 89049512