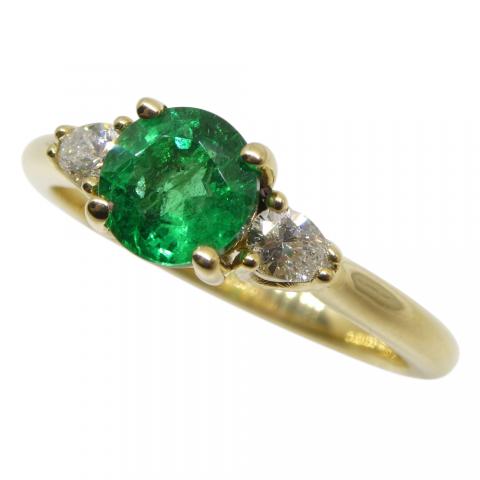 - August 2, 2021 /PressCable/ —
Skyjems.ca has released a new video report, Why Do Emeralds Have Inclusions? The guide is presented by David Saad, an expert jeweller and part owner of the store.
For more information, visit: https://skyjems.ca/blogs/news/why-do-emeralds-have-inclusions-1
The company's latest report will help those interested in purchasing emerald jewellery understand more about the quality and appearance of the precious gemstone.
Founded in 1967, Skyjems.ca is a mother and son-owned enterprise based in Toronto, ON. The company specializes in selling ethically sourced gems, including emerald, sapphire, opal, tanzanite, tourmaline, amethyst, garnet and more. Since opening its online store in 1999, Skyjems.ca has developed a dedicated following for its superior products and a keen eye for detail.
Tehe store's video report provides a comprehensive overview of how natural emeralds are formed and how their composition contributes to inclusions in the gems. According to the report, inclusions are commonly found in gemstones and are caused by any material trapped inside the mineral during formation.
David Saad explains there are three main reasons naturally formed emeralds have inclusions. The first is that the gems are formed during seismic activity and the second is that the atoms that compose emeralds are varying sizes, both of which make it easy for inclusions to enter the stone. The third reason is that the mining process can damage the gem.
Skyjems.ca carries a wide selection of GIA certified emerald jewellery, including earrings and rings, at a variety of price points. The store's emeralds are each selected for the quality, ensuring clients receive a clear product.
The store can also design custom emerald jewellery for clients looking for a unique piece. The jeweller can design necklaces, earrings, rings and more for engagements, birthdays and other special events.
The release of the video report is in line with the company's commitment to providing clients with the highest quality gems and jewellery. Moreover, the company has developed a strong reputation for its ethically sourced products and level of client care, as indicated in its many positive reviews online.
One satisfied client said: "Excellent experience. David Saad was helpful and kind and knew what he was doing while designing my engagement ring. I highly recommend Skyjems.ca."
Interested parties can find out more and view the company's extensive gemstone collection by visiting: https://skyjems.ca/blogs/news/why-do-emeralds-have-inclusions-1
Release ID: 89039796