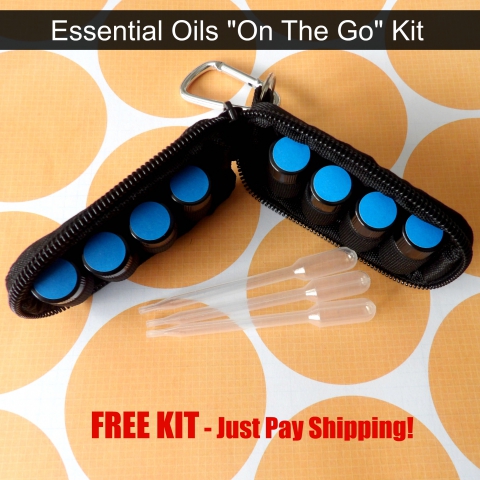 - May 1, 2017 /PressCable/ —
The popular Loving Essential Oils announced a premiere essential oils on-the-go kit with a practical travel case that can be clipped to a keychain or purse, small amber glass vials, orifice reducers, pipettes and labels, all free with just shipping costs.
More information is available at https://lovingessentialoils.com/products/essential-oils-on-the-go-kit-free-just-pay-shipping.
The Loving Essential Oils is a company created by a family passionate about holistic, natural health committed to providing fellow essential oil and healthy living fans with all the quality supplies, toolkits and DIY recipes they need to easily get the most out of their essential oils or aromatherapy and create the best homemade, natural products for their family and friends.
The essentials oils store has announced it is now giving away a complete essential oils on-the-go kit with a practical black travel case that zips up securely and can be clipped to keychains, purses, backpacks or travel bags ideal for those looking to conveniently and safely carry their essential oils with them anywhere.
The complete Loving Essential Oils travel kit also featuring eight small amber glass travel vials and twelve blue cap labels to carry, organize and protect the oils along with eight orifice reducers to easily control the flow of the drops and three plastic pipettes to transfer them between bottles, is available to essential oil fans in the USA for free with just shipping and handling costs.
More information on the free Loving Essential Oils on-the-go kit and its convenient travel bag or quality vials, pipettes, orifice reducers and labels can be consulted at the website link provided above along with details on the store's coveted collection of essential oil kits, glass jars and containers or roller, spray and dropper bottles and its highly popular essential oil DIY recipes and tips.
The Loving Essential Oils founders explains that "we love using essential oils every day in our lives and we want to help everyone do the same. We want to help people find easy ways to get the most out of their essential oils and incorporate them in their daily life or the lives of their family and friends. With this kit they can carry their essential oils with them anywhere. It's an absolute must have that we are now giving away for free."
Release ID: 192286