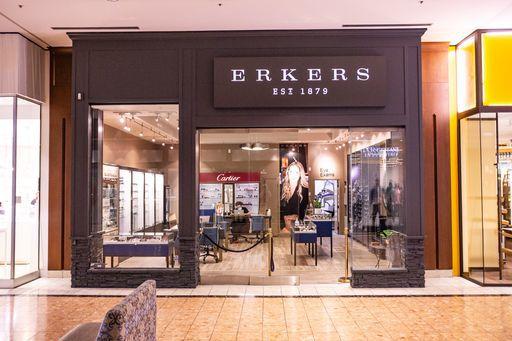 - January 22, 2021 /PressCable/ —
Erker's has announced the opening of their new flagship store, highlighting the Erker's 1879 eyewear collection located at the Saint Louis Galleria. Erker's 1879 is one of the largest independent eyewear brands in the United States with a specialized focus on using luxury materials to create eyewear that stands the test of time.
Each season, Erker's 1879 creates a new release focusing on both the history of the brand as well as the history of Saint Louis. From naming eyewear after local neighborhoods such as the Webster, or after famous St. Louisan's, Erker's 1879 proudly pulls inspiration from all over the Saint Louis area. Erker's Eyewear is never mass produced and is meticulously finished by hand. Erker's 1879 strives to produce some of the finest eyewear in the world. As a nod to their important history, each pair of glasses includes a special emblem on their temple tips. You can learn more about the emblems and the story behind each one at erkers1879.com or step into the new store, where they are highlighted throughout.
Erker's has dedicated the past 141 years and 5 generations to fine eyewear. Founded in 1879, Erker's is known as the oldest eyewear company in the United States. In addition to highlighting their own brands, Erker's also carries the largest selection of top eyewear from around the world and goes above and beyond the standard for Eyecare and Eye Exams. They are proud to be opening another store in the very same city the company began and is still headquartered today.
The Galleria is considered to be one of Saint Louis, Missouri's top tourist attractions with higher-end shops and department stores. Erker's Fine Eyewear customers will truly get a feel for the brand as soon as they step foot into the store. The timeless aesthetic embodies their high standards of excellence and meticulous design, allowing only the best of the batch to be available to the market.
Be sure to check out Erker's new store at the Saint Louis Galleria, as well as their other locations and support your local eyewear company. In addition, you can find Erker's Eyewear at great optical shops and doctor's offices around the country. Erker's is taking appropriate precautions in alignment with local government guidelines and can assure the health and safety of the customers is their top priority.
Erker's 1879
1459 St. Louis Galleria St,
Richmond Heights, MO 63117
(314) 470-1184
Release ID: 88994536