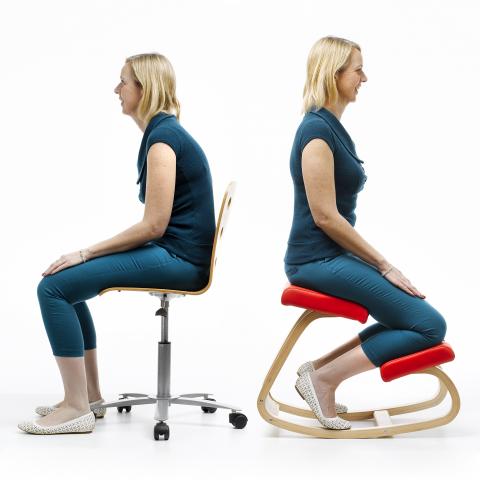 - June 20, 2018 /PressCable/ —
Ergo Design Europe, a company specializing in high-quality ergonomic office furniture, launched the Ergonomic Kneeling Chair, a new office stool designed to promote a healthy posture, alleviate back pain and encourage core muscle engagement. The chair is lightweight, strong and practical, making it ideal for anyone looking for a versatile orthopedic office chair.
More information can be found at https://www.amazon.co.uk/Ergonomic-Kneeling-Computer-Promotes-Orthopedic/dp/B07236KZNW.
Recent years have seen a significant growth in the number of musculoskeletal problems associated with sedentary lifestyles and poor posture, as more and more individuals spend long hours sitting in incorrect positions.
The new chair from Ergo Design Europe is designed to promote optimal posture and reduce the risk of back problems.
Its unique design encourages user to sit at an open angle, thus developing a better posture, improved circulation and higher levels of concentration. Users can also engage in a gentle rocking motion when they need to relax.
The main benefit of the Ergonomic Kneeling Chair is that it actively tilts the user's pelvis forward, contributing to a naturally-aligned spine. This posture reduces pressure on the spinal discs and minimizes the strain on the back, neck and shoulders.
Daily use of the knee chair also helps users build stronger, slimmer abdominal muscles. The new device has been recommended by osteopaths and chiropractors for its musculoskeletal health benefits.
The Ergonomic Kneeling Chair is recommended for individuals under 6-feet tall and weighing less than 14 stone (90 kilograms).
A satisfied customer said: "This is an absolutely fantastic kneeling chair! I've received and assembled it today, after having ordered it just yesterday. It is extremely comfy and actually fun as it makes you rock slightly, if you want to. It really is a pleasure to sit on. It makes you sit in a good position with a straight back too. I am very impressed with the purchase and I would definitely recommend the chair to anyone looking to improve their posture."
Interested parties can find more information by visiting the above-mentioned website.
Release ID: 362848