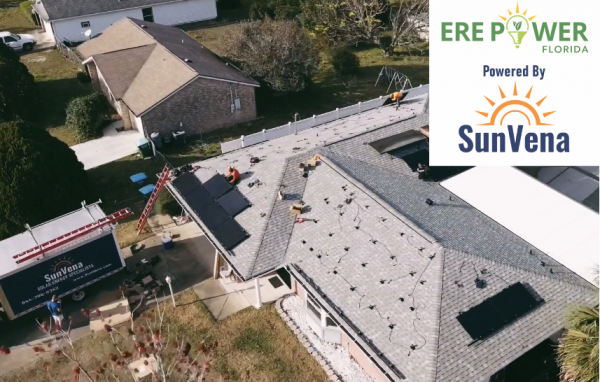 - April 4, 2021 /PressCable/ —
Solar Specialist, ERE Power Florida, has partnered with Google Sunroof to help homeowners cut through all the solar media misleading information and get to the facts. Ellie, their Google Sunroof specialist will quickly walk you through how much sun your home gets, how much solar you need, and a ballpark of what it will cost to break away from the power company and save 20%-40% off your current average monthly electric bill.
To quickly connect with Ellie and get a ballpark price of going solar click here: https://estimate.erepowerfl.com/
This AI feature from ERE Power Florida and Google Sunroof contains precise and detailed steps and instructions, designed to be used by Homeowners to determine if they are a candidate for solar. Elle is a quick, easy wealth of solar information taking the stress out of the solar purchase investigation.
ERE Power Florida states that Ellie is easy to follow and provides just enough information to help you better understand your solar situation.
Once Elle confirms and gives you a ballpark price, ERE Power Florida will schedule a 10 min call to go over how much solar will cost you. Solar goals include cutting your current power bill by 20%-30%, eliminating the inflated variable power bill with a non-variable solar bill and providing transparent and trustworthy solar service. ERE Power Florida Powered By SunVena, the #3 Rated solar installer in the county, is changing the way solar is sold. ERE Power Florida is teaching homeowners how to buy solar and battery off-grid system correctly. They know that open lines of communication create a smooth solar journey – With so many steps in getting solar, being guided by an ERE Power Florida solar specialist is key.
When asked for more information about Ellie, and the reasons behind offering instant estimates, Randy Larson, Owner at ERE Power Florida said: "You have nothing to lose but your electric bill. In 10 min you will know whether or not solar is for you."
Homeowners and anybody interested in quickly determining how much sun your home gets and how much solar you would need, please meet Ellie by clicking here: https://estimate.erepowerfl.com/
More information about ERE Power Florida itself can be found at http://EREPowerFL.com
Release ID: 89003532