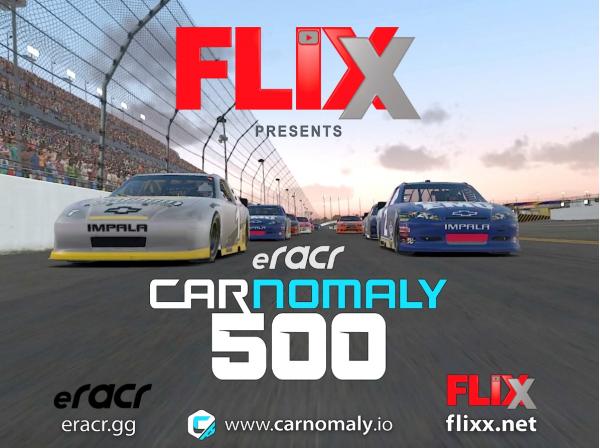 - January 25, 2021 /PressCable/ —
Sacramento, California – Back in July of 2020, the Firecracker 400 event made headlines and captivated the sim racing world for three weeks as over 300,000 people tuned-in to watch, this year we have a new sim racing event: Carnomaly 500. With this event race, fans have the opportunity to participate in the next eRacr event.
Our next huge event
Introducing the Carnomaly 500, a three-week-long, iRacing tournament featuring the NASCAR Car of Tomorrow unrestricted around the banks of Daytona. Race for your piece of the $15,000 prize purse and the opportunity to make a name for yourself on the most interactive sim racing broadcast in history. For just a $25 entry fee, people have the chance to take part in the next Crown Jewel event.
$15,000 Purse
$3,000 to win
$100 minimum prize to start the main event
Real-time interaction
On January 23, at 6 PM ET the signup started at https://eracr.gg. The entry fee is $25, however, we expect to sell out of entries fairly quickly,
How to watch
The world will be able to watch on the eRacr.gg and on Flixx.net (Also Youtube and Facebook) but we recommend watching it on Flixx. Viewers will get points for participating throughout the whole event and bonus points for correct predictions. The top points scorers will win prizes at the conclusion of each night and at the end of the event. Also, each point counts towards a giveaway, so if contenders have a bad race, it isn't all for naught, cause each point is more chances to win! So contenders can participate each night and participate often – There are prizes at stake!
About Carnomaly
Carnomaly is bridging the gap between the automotive and cryptocurrency worlds by creating a new type of automotive platform – one that benefits both consumers and dealers. Carnomaly sees a need to correct issues plaguing the online automotive industry.
These include:
Undervalued Trades
High-Interest Rates
Overpaying for vehicles
A confusing buying process
Inaccurate vehicle history reporting
The Carnomaly ecosystem will bring innovative solutions to the automotive and digital world. Carnomaly, CarrChain, and CarrDefi will work together with blockchain technology to bring this ecosystem to life. Together, these services will change the way we buy, sell, shop for, and finance vehicles.
Release ID: 88994681