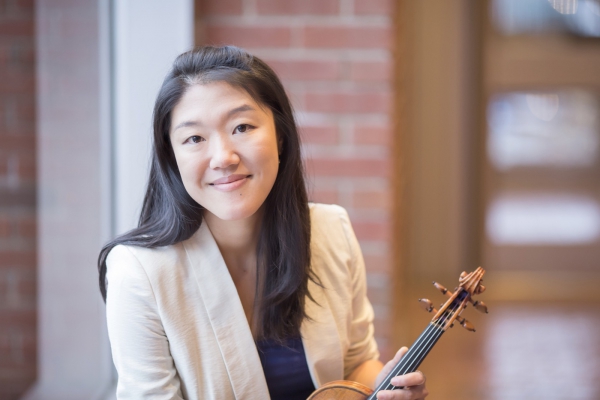 - April 14, 2016 /PressCable/ —
Concert Will Include Arkansas Premiere of Violin Sonata Amerigo of the 50 State Sonata Project
FOR IMMEDIATE RELEASE
April 12, Fayetteville, AK – Er-Gene Kahng, concertmaster of the Arkansas Philharmonic, will be performing the Arkansas premiere of the Amerigo sonata next week as part of the 50 State Sonata Project by New York City composer Stephanie Ann Boyd. The concert features Boyd's other violin works, including the short serenade Among Darkened Peonies, and the violin concerto Sybil. Pianist Broc Hite joins Kahng for this concert on Tuesday, April 19th at 7pm at Old Main Giffels Auditorium in Fayetteville.
Er-Gene Kahng has held title positions with the Baton Rouge Symphony Orchestra, the Civic Orchestra of Chicago, as well as section positions with the Lancaster Symphony, New Haven Symphony Orchestra, and Eastern Connecticut Symphony. She is currently serving as Concertmaster of Arkansas Philharmonic, North Mississippi Symphony Orchestra, and is the Assistant Concertmaster of Fort Smith Symphony. She also performs as a substitute section violinist with the Tulsa Symphony Orchestra and Arkansas Symphony Orchestra. "I'm so happy to be able to work with Er-Gene", Boyd said. "Her high level of artistry as a performer and her deep understanding of contemporary music have been so exciting to interact with."
The 50 State Sonata Project is a large scale co-commission that is bringing new music to every corner of the US in 2016, with one violinist in each state premiering Amerigo, a new sonata for violin and piano by Stephanie Ann Boyd. This is Part I of a two year project dedicated to the life and work of John Kendall, the man who brought the Suzuki method to the US in the 1960s.
A graduate of the New England Conservatory, Boyd is currently based in New York City. Her largest project to date is this year's 50 State Sonata Project, in which a new violin sonata Amerigo has been commissioned by one violinist in each of the 50 states. Last season's highlights involved co-directing the Tuesday Night New Music concert series, winning New England Conservatory's Donald Martino Prize for Excellence in Composition, being chosen as the NEC/Boston Modern Orchestra Project Competition winner, and having her violin concerto premiered in Jordan Hall by recent Michael Hill International Competition prize-winner Eunae Koh under the baton of Australian conductor Nathan Aspinall.
More information on Boyd and Kahng's commission can be seen at http://stephanieannboyd.com/arkansas
Release ID: 110457