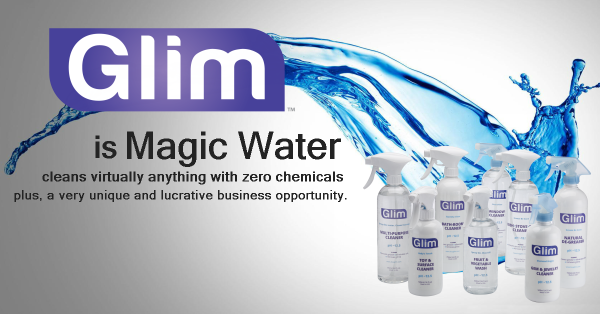 - November 22, 2016 /PressCable/ —
ePlan Magic Water™, a rising leader in the green movement is bringing their original patented technology to the U.S. market after seeing a huge three-year success in Asia. Debuting "Glim," the super alkaline ionized water, (SAIW), on December 3rd at the Hilton Santa Clara Hotel in Santa Clara, will be historic as the Japanese inventor, Matsuzawa-san, will be in attendance alongside other international guests who will comment on the Asia success story and the coming tsunami of demand in the U.S. market.
"What will make Glim successful in the US," commented Julian Goduci, ePlan's Chief Marketing Officer, "is the fact that everyone, from big automakers to commercial kitchens to daycares to individuals, wants to rid their environments of harmful chemicals without sacrificing the results that they are used to."
According to Goduci, Glim replaces products such as glass and tile cleaners, degreasers, surface disinfectants, floor cleaners, dishwashing liquids, laundry detergents, fruit and vegetable wash, personal deodorants, hand sanitizers, toy cleaners, baby wipes, and much more. Goduci stressed, "We are extremely serious about our mission statement; which is to replace the use of detergents and cleaning chemicals with our 99.83% pure water worldwide."
With so many applications, recognizable brands have stepped forward to license and manufacture Glim in-house for their own use. Manufacturers such as Foxconn, Toyota, and Honda have found SAIW to be a cost-effective and non-toxic cleaning agent on assembly lines. Hotels and restaurants have also followed suit.
"We are very excited about breaking open the US markets," Julian Goduci, Chief Marketing Officer, remarked. "We are already up to our eyeballs in inquiries. The demand is great; so much so that we are seeking to outsource production to partners in markets all over the country to keep up with the demand. These dealer-partners have huge cash opportunities with low start-up costs. It's a fantastic home-based business. And we feel good about giving people the opportunity to rapidly expand with us."
ePlan Magic Water and Glim will officially launch at the Hilton Santa Clara Great America Pkwy on December 3 rd in Santa Clara. RSVP is required and seating is limited. For more information visit: www.GlimBusiness.com or call 877-959- GLIM or 877-959-4546.
And refer to the Glim Introduction Video on YouTube: https://youtu.be/4b6SxqoRp1s
—
About ePlan Magic Water ePlan Magic Water USA, Inc. is a privately held company based in Redwood City, California that develops and sells equipment producing super alkaline ionized water (SAIW), based on the original patented method of electric decomposition. SAIW is "user friendly" and "ecofriendly and has applications in a wide variety of industries. SAIW helps to reduce environmental load and environmental measure expenses. For more information visit: www.eplanmagicwater.com
Release ID: 147984