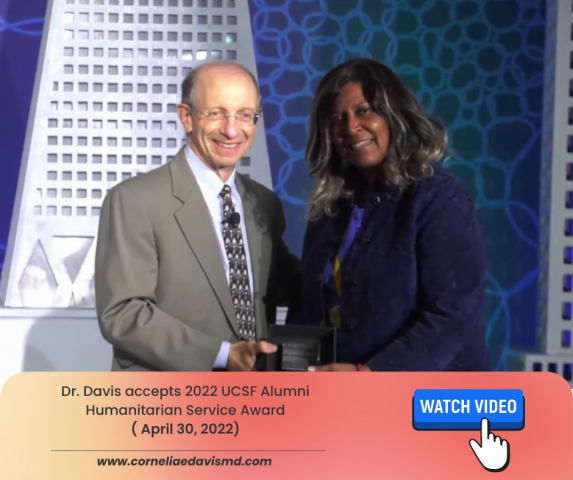 Laredo,United States - November 24, 2022 /PressCable/ —
A prominent author, epidemiologist, and speaker, the USCF 2022 Alumni Humanitarian Service Award was conferred in recognition of her outstanding contribution to the community across borders. For more information, visit https://corneliaedavismd.com/about-achievements
Dr. Davis is among seven winners recognized by The Alumni Association of UC San Francisco with the new award. The Humanitarian Service Award is granted annually to an alum who, according to UCSF, "has made a transformative contribution to their local community, the nation, or the world that has helped make it a better place."
This award is the latest in a series of accomplishments by Dr. Davis. After receiving her Doctor of Medicine degree from UCSF in 1972 and completing a residency in pediatrics, she was hired by the World Health Organization (WHO) in 1975 to work in the Smallpox Eradication Program in India.
This experience changed her focus from pediatrics to international public health, and inspired her first book, "Searching for Sitala Mata: Eradicating Smallpox in India," which won the Gold Medal in the 2017 Global Ebook Awards, non-fiction and inspirational.
Additional information about the award is available at https://www.ucsf.edu/news/2022/05/422896/2022-ucsf-alumni-achievement-awards-honor-accomplished-alumni-and-rising
As a result of her work in India, Davis was offered a scholarship by Johns Hopkins University in Baltimore, where she earned her Master of Public Health (MPH) degree. She then went on to work at the Epidemic Intelligence Service (EIS) at the Centers for Disease Control (CDC) in Atlanta.
Over the next 30 years, Davis battled disease outbreaks in Africa and Asia for WHO and the U.S. Agency for International Development (USAID). She worked in 20 different countries in Africa and Asia on infectious diseases such as smallpox, malaria, tuberculosis, HIV/AIDS, yellow fever, and meningitis.
Her second book, "Three Years in Ethiopia: How a Civil War and Epidemics Led Me to My Daughter," was a semi-finalist in 2019 for the B.R.A.G. Medallion Award. In her most recent book, "Risking Is Better Than Regretting, Live Without Regrets," Davis shares stories about her life in the field.
She states: "It's been my experience that you need to take all the opportunities that present themselves. If you don't go after what you want you never have it. Risking is better than regretting."
More information is available at https://corneliaedavismd.com
Contact Info:
Name: Cornelia E.Davis
Email: Send Email
Organization: KonjitPublications
Address: 2163 Lima Loop, PMB 071-416, Laredo, Texas 78045, United States
Website: https://www.corneliaedavismd.com

Release ID: 89085263