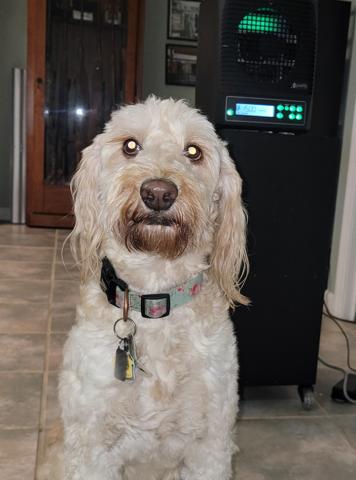 - October 19, 2021 /PressCable/ —
Keith Roe of Advanced IAQ Solutions was contacted to assist in improving IAQ (Indoor Air Quality) within two separate kennel buildings at Trifecta Kennels in Gilbert, PA this past month. Trifecta Kennels is a dog training, daycare, boarding, and kenneling provider in business for over 40 years. There is the continual challenge of keeping dogs healthy in this type of canine community environment. Some of the most pressing concerns were controlling odor, eliminating covid threats, and effectively removing kennel cough, which is described as a highly contagious respiratory disease that causes inflammation in the throat and lungs of dogs.
Veteran Environmental Consultant Keith Roe knows there are multiple technologies available that are chamber tested (in controlled environments) to break down viruses and airborne infectious diseases. However, there is controversy around the validity of this testing as compared to a "real world" field testing setting with the many environmental variables that this presents and must be accounted for.
At Trifecta Kennels, it was decided by Environmental Consultant Keith Roe to provide a combination of technologies available in a portable unit that utilizes UVC-PCO (Ultraviolet rays creating a photocatalytic oxidation function) tested to have a higher level of effectiveness to inactivate the DNA of infectious bioaerosols and the RNA of viruses. The unit chosen also incorporates BPI (Bipolar Ionization) that produces a stream of negative ions tested to rapidly break down odors and VOC's. This causes the dangerous airborne particles to combine thereby causing them to fall out of the air. The third catalyst used is Activated Oxygen at very low levels which serves to increase the overall synergy of the other two technologies.
Keith Roe relayed the following. "We provide an affordable, extremely important service for people by removing the fear of the unknown in what can't be seen in the air. Most people, businesses, and organizations don't have any idea what's in the air they're breathing. Even in a place like Trifecta Kennels, you suspect kennel cough could be in the air, but without testing and protection, you just don't know and aren't safe."
Keith Roe has done extensive testing on these units in real world settings at many different businesses, restaurants, schools, daycare centers, and many other public building environments. The tests have recorded excellent results in all areas tested. The drastic, sustained improvement in Indoor Air Quality has not been seen when only using the individual technologies of UVC-PCO, BPI, or Activated Oxygen. Therefore multiple air purification types were chosen to provide the most effective and safest solution in this particular dog kennel environment.
When asked about the specifics of using multiple air purification strategies, Roe said the following. "The indoor air quality of a facility has one of the largest impacts on our overall health and well being. People are concerned about kennel cough, covid, and other viruses when it comes to them and their pets. Our field testing studies give us specific, actionable information which enables us to implement the most effective custom protocols to remove toxins and infectious viral clouds for people and animals. This improves the indoor air quality for vastly improved long term health and safety."
Advanced IAQ Solutions performs their own rigid testing protocols developed through many years of experience before recommending any individual product or piece of equipment to reduce indoor air contamination and improve the air quality at Trifecta Kennels and all other client facilities.
Advanced IAQ Solutions, Inc. is a Pennsylvania & Florida based company with over 30 years of experience helping those located in the eastern United States. Services are environmental consulting and field testing related to all indoor air quality issues for homeowners, private businesses, schools, churches, healthcare facilities, and government agencies. Those interested can contact Keith Roe at 610-972-1293, watch the following video, or visit the website at www.advancediaqconsulting.com.
Release ID: 89049590