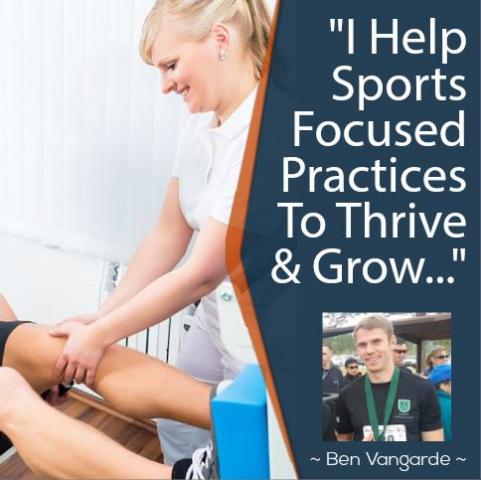 - August 22, 2018 /PressCable/ —
The most successful private practice owners have one thing in common. They don't settle for average branding and marketing efforts. This is not to say that they simply outspend the competition. They simply take their brand image seriously, and they have learned to invest wisely in marketing strategies that produce both short term ROI, and long term brand awareness.
Learn these top 5 strategic marketing concepts in order to further separate your brand in a crowded and competitive marketplace. If you'd rather watch a video explaining these strategies, with examples and bonus tips, check out this YouTube video.
1) Make Your Reputation Tangible, And Share It Everywhere
How valuable is it when a customer refers someone to your business? These brand ambassadors are a key part of the lifeblood of any practice. Now, how much more powerful would that recommendation be if it were announced to tons of people who are in the market for what you have to offer? This is essentially what online testimonials (or reviews) do for you. A solid reputation, in the form of many 5 star reviews, used to be "nice to have." In 2018, however, this tangible form of your actual reputation is necessary to establish trust with would-be buyers online.
According to the numbers compiled by Vendasta, 92% of consumers now read online reviews, and 88% form an opinion after reading up to 10 reviews.
If customers are paying this much attention to reviews, it stands to reason that the business who has more positive (4-5 stars) testimonials than the rest – has a clear competitive advantage. This is an unbeatable selling point in your social media and marketing efforts.
2) Put Your Brand & Offer Ads Everywhere Your Customers Are Looking
Another unsaturated trend that is rapidly becoming more popular, is Digital Display Advertising (for traffic and branding). Display advertising consists of placing your image and video ads on websites across the web. In addition to solidifying your brand in front of the audience of your choosing, a well-done digital ad campaign can actually generate clicks (traffic) to your website or offer. Display ads are priced per 1,000 impressions (views), rather than paying per click.
As is the case with Facebook Ads, you have the ability to get very granular and targeted with the audience that you target using display ads (sometimes called "banner ads"). Pro Tip: Use three different types of ad images in your campaign to avoid something called "banner blindness" (audience needs fresh content and variety).
3) Use Video!
Statistics show that video communication on the web is not only increasing in a massive way, but that it is also how people prefer to consume their content. While it is always a good idea to feature yourself and/or your staff in your videos, it is not absolutely necessary. You can still benefit from using outsourced video production that aligns well with your brand and message. Using video on your YouTube Channel, your Facebook Page, and your website can help you to communicate with your audience in a way that is more personal than text.
4) Fortune Is In The Follow Up
This is one of the best opportunities that almost no one is taking advantage of. Here is an analogy: when sales professionals get contacted by a lead, they understand that regular follow up is likely required in order to convert that lead into a client. Well, your website is an online version of your sales person, and the data shows that 96% of the leads that visit your site LEAVE without contacting you. People get distracted, or they want to shop around, or they couldn't easily find what they needed, etc. If your practice is spending any kind of money to generate traffic to your website, or you hold a top position in the search engines, you should absolutely have a remarketing strategy in place.
The stats show that people who see retargeting ads convert at a 70% higher rate than initial ads. Numbers like that should not be ignored. These people are great prospects, because they already showed interest in your practice or service. When set up correctly, a retargeting pixel allows you to show relevant ads to those people on autopilot. These ads can appear on mainstream news and sports sites, as well as on specific social platforms like Facebook or Twitter. Implementing retargeting provides some of the same benefits as regular email followup, without having to ask people for their email address. It also adds to your credibility as an established brand. Learn more here.
5) Maximize Your Google Business (Maps) Listing
Setting up your Google My Business (GMB) "maps" listing is business 101. That is not news to anyone. What many practice owners take for granted, however, is just how powerful this web property can be when optimized and managed consistently. Consider the following 3 factors that can turn this free listing into a lead generating machine.
First, create a process that allows you to generate more positive reviews (as mentioned earlier), respond to reviews when appropriate. This stands out in a huge way to potential clients who find you online.
Next, make an effort to fill out the entire listing with accurate and helpful information. This includes pictures and video content. Google has recently allowed for video in the listing, and they are formatting the GMB profile to function like a social media platform for small businesses to communicate with customers.
Lastly, ensure that your business address is cited in all of the major citation sources (YellowPages, Yelp, Foursquare, etc). This signals to Google that you are a legitimate and recognized brand. It is important to fill these listings out fully as well, which can be very time consuming. Fortunately, there are plenty of reputable outsourcing options available to have this done for you. The crucial factor here, to ensure your listing ranks well, is to verify that the exact format of your address on GMB is replicated on every other site.
Release ID: 394589