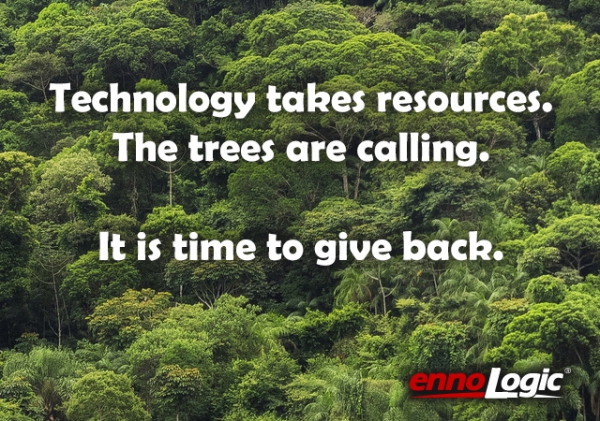 - February 7, 2017 /PressCable/ —
As a part of realizing their commitment to support projects that give back to nature, ennoLogic announced their new initiative to fund tree planting in the tropics through the non-profit organization TreeSisters, starting in January 2017.
TreeSisters is an international organization of women dedicated to raising awareness and reforesting the tropics. Founder Clare DuBois has been working on the development of TreeSisters in order to provide a way for women to become connected to giving support to the natural world, and particularly the trees which are so crucial to maintaining a healthy eco-system and remediating excess carbon in the atmosphere.
EnnoLogic chose TreeSisters as the first major project in support of giving back to the environment in late 2016. The decision came in the wake of a particularly devastating ice storm in the Eugene, Oregon area where ennoLogic is based. The storm caused extensive damage in and around the city of Eugene, when heavy ice built up over several days of freezing rain and freezing temperatures. Downed trees covered roadways and led to extensive power outages throughout the community.
Trees play a critical role in maintaining earth's clean air and removing excess carbon dioxide, as demonstrated in a NASA climate research video showing the carbon dioxide 'vacuuming action' of trees over a 12 month cycle. According to Yale doctoral fellow Thomas Crowther, there are currently an estimated 3.1 trillion trees on the earth. However, that number is half what it was 12,000 years ago, and carbon in the atmosphere due to fossil fuel emissions is overpowering the trees' ability to remove it.
The TreeSisters Mission is to help reforest the Tropics by "inspiring and channelling women's nature-based feminine leadership into local and global action." Their objectives include increasing green cover (forest habitat) for the benefit of the public, through the conservation protection and improvement of the physical and natural environment by promoting biological diversity. Additionally, TreeSisters seeks to advance public education in the conservation, protection and improvement of the physical and natural environment, including training and support to encourage leadership and participation in the work of the charity and environmental protection.
While TreeSisters is focused on empowering and honoring divine feminine creativity in the world, men are welcome to join and to contribute.
EnoLogic spokesperson Chris Johnston, said "We chose TreeSisters for our first major ongoing charitable contribution because we felt they truly embodied the spirit of giving back to nature in a direct and visible way. Their on-site reports and direct access to the work they do makes it easy to see how our contributions go to the planting of trees. Being an Oregon based company, we are sensitive to the important role of trees in a healthy and stable ecosystem."
A statement on the ennoLogic website under the heading "Your Purchase Will Plant Trees to Reforest the Tropics", reads:
"A portion of every purchase you make is donated to TreeSisters and goes directly to reforest the tropics. We love technology, but a never ending drive for more technology ignores the natural limits of our planet's resources. TreeSisters' mission is to plant trees in the tropics to draw the carbon out of our atmosphere so future generations can inherit a stable healthy world rich in natural diversity. Your purchase will help us get there. Our donations currently plant over 500 trees a month."
"Help TreeSisters Plant Trees to Reforest the Tropics
We love this Earth so much that it is not okay with us to simply sell yet another piece of technology without also giving back to Mother Earth. Reforesting the tropics is emerging as a critical piece of stabilizing our planet's biosphere. And so it is the place we have chosen to put our focus. Every purchase you make from us will contribute directly to the planting of trees. If you would like to help us make an even bigger difference we invite you to Join TreeSisters."
Ennologic began the new charitable contribution program in January of 2017 with plans for monthly contributions which will continue to grow as the company expands.
"We are very pleased to have reached a level of growth which allows us to make such contributions a part of the on-going structure of the business." said Johnston.
About ennoLogic
EnnoLogic is a brand of high-quality electronics products with a focus on measurement and test instruments. The brand's goal is to offer reliable, accurate, high-quality technology products at affordable prices, backed by exceptional customer service and suport. The ennoLogic brand was founded in 2013 in Eugene, Oregon.
Release ID: 167542