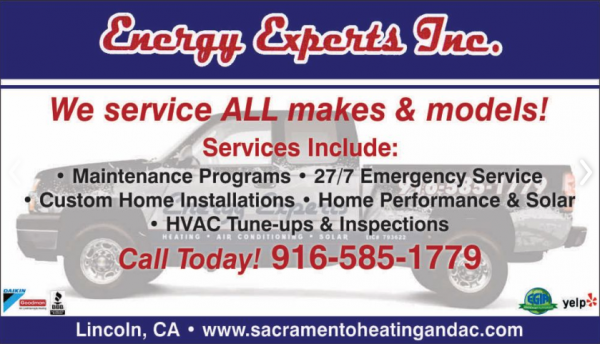 - May 23, 2019 /PressCable/ —
Earlier today, Energy Experts a HVAC company, announced the launch of its new annual maintenance service that covers tuneup for both AC or Heat and includes 2 visits for a very affordable price of $150 per year in the Orangevale, Lincoln and surrounding areas, set to go live May 25, 2019. For anyone with Heating, Air Conditioning & Solar in their homes, this new development will be worth paying attention to, as it's set to assure customers of cooling living conditions with the coming of summer.
Currently, with even a passing glance, a person will notice Energy Experts combined 50 years of experience, offer this remarkable service to ensure customer's AC or Heating equipment does not break down by performing 2 tuneups under the annual maintenance agreement. The Owner at Energy Experts, Brian McCully, makes a point of saying "things are going to change when our annual maintenance service that covers tuneup for both AC or Heat and includes 2 visits for $150 per year in the Orangevale, Lincoln CA and surrounding areas launches".
Brian McCully has a reputation among his peers, continues… "Where you'll always see our competitors doing the same old thing, we will be scheduling & reminding customers when the 2 tuneup visits are due. Leave the worries of forgetting and potential equipment breakdown to the experts. Energy Experts will not let you down! We do this because we believe people tend to forget to service their AC/Heating equipment and just take them for granted as long as it keeps on working. Eventually, as months & years pass, mechanical equipments will break down if regular maintenance is not done. This apathetic attitude will result in having to spend more for costly parts, labor cost repairs or even having to buy a completely new AC or Heater. Worst of all, the inconvenience of uncomfortable living conditions without heating or cool air! Ultimately this is going to be a huge benefit to our customers because this annual maintenance program for the Orangevale, Lincoln CA areas ensures your Air Conditioning & Heating equipment is kept in good condition by doing 2 tuneups a year."
Energy Experts founded in 2001 is an accredited business with BBB & GEOSmart Authorized and is a licensed, bonded, insured HVAC specialist. The owner has been in this line of work since 1988 and it has always aimed to provide clean indoor air quality & a better living condition for families around the Central & Northern California Valley for over 30 years! Residential and Commercial. By the way, they too have a 24/7 Emergency Service.
Currently, the closest thing to Energy Experts's of an annual maintenance that covers tuneup for both AC or Heating are contractors who charge way too much and overpromise/underperform. Some companies will even send in their inexperienced junior technicians and leave behind the equipment at risk. Energy Experts armed with more than combined 50 years experience is personally attended to by Brian or his son, Thomas. Energy Experts improved on this by examining the condition of customer's AC/Heating equipment, servicing if it's still in working condition or free estimates if the equipment is unserviceable. They also supply home AC, air duct ventilation, gas or electric furnace, heater installation, repair of air conditioning, furnace, thermostat, AC, air duct, flame sensor or heater. This alone is predicted to make Energy Experts's annual maintenance more popular with customers in the Heating, Air Conditioning, Solar space, very quickly.
A small price to pay, indeed, for peace of mind! Be better prepared for any change of weather.
Once again, the annual maintenance service covers tuneup for both AC or Heat and includes 2 visits for a special price of $150 per year in the greater Sacramento CA area is set to launch May 25, 2019. To find out more, visit Energy Experts AC Air Conditioning Maintenance Affordable Service Plan
Release ID: 515891