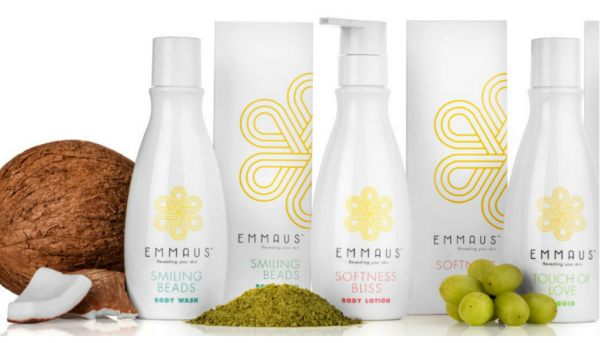 - June 6, 2017 /PressCable/ —
Skincare and body lotion enthusiasts looking for the latest information on how to have clear skin using all natural products are invited to subscribe to the all-new YouTube channel by Emmaus Beauty. This new channel promises to provide expert guidance and information on all natural skincare products, on a regular basis.
Emmaus Beauty was created as a solution to a skin problem the company's founder, Aminah Sagoe, was suffering from. Sagoe suffered from a condition known as Keratosis Pilaris (KP), more commonly referred to as "chicken skin". KP produces a goose bump type of appearance on the skin, and can appear anywhere on the body. KP is not life threatening in any way; neither is it contagious, however it is aesthetically displeasing to the eye. Sagoe originally set out on a mission to find a natural care regimen to improve her own condition, and in the process she discovered a unique combination of ingredients that not only helps with KP, but also with body Acne, ingrown hairs, uneven complexions, scaly skin, Eczema, Psoriasis, and other skin conditions.
The new YouTube channel, "Emmaus Beauty", was created specifically for the needs of clients who are looking for a resource to help improve similar skincare conditions as information on all natural skincare. Emmaus Beauty welcomes input from viewers on which additional topics to explore and cover in future videos. Planned subjects for upcoming videos include, "Exfoliating Skincare with all Natural Witch Hazel Water and Chamomile", "Need Help Clarifying Your Skin with a Body Wash", and "Body Lotion to Help Skin Conditions such as Keratosis Pilaris, Body Acne, dark spots & discoloration"
"The goal of our new YouTube Channel is provide the best possible information and resource for people who suffer from a variety of skin problems but want to find a longstanding all-natural solution," said Aminah Sagoe, Founder of Emmaus Beauty.
Clients interested in all natural skincare solutions, can subscribe to the YouTube channel HERE
Alternatively, clients are welcome to read more on the company website at: http://emmausbeauty.com
Release ID: 205135