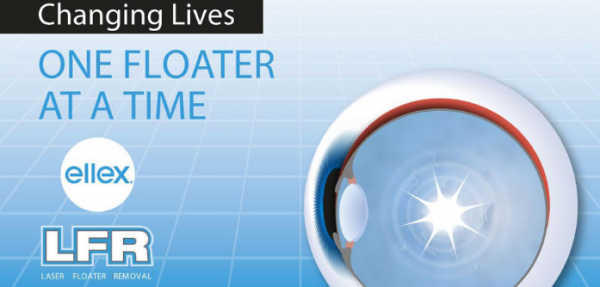 - March 21, 2017 /PressCable/ —
Ellex, a leading manufacturer of innovative products for retina specialists and eye surgeons worldwide, announces the launch of its new doctor-facing resource: TreatEyeFloaters.com. The new hub includes webinars, clinical footage and patient testimonials as well as other valuable resources for the treatment of eye floaters.
"Ellex created this educational resource to provide our clients with important and helpful information on Laser Floater Removal (LFR). We describe what the procedure is, how it will impact your practice, and how it will improve the quality of life for your patients," remarked Bill Swaim, President, Ellex, Inc. USA.
Seven in ten people will suffer from floaters at some point in their life, and while white floaters are common large floaters can be debilitating. Some will even be forced to give up professional or leisure activities due to the disturbance in their visual field. TreatEyeFloaters.com is a space for eye surgeons to learn how fellow doctors are bringing new hope to floater sufferers. With the advent of innovative technologies such as Ellex Ultra Q Reflex Laser, today ophthalmologists can offer their floater patients laser vitreolysis procedures with greater safety and clinical efficiency than ever before.
The goal is simple: to enhance the lives of patients by providing outstanding patient care and to adopt innovative technologies that provide scientifically proven solutions to patients while being financially and operationally prudent.
Ellex is changing lives one floater at a time.
ABOUT ELLEX
Ellex is committed to pioneering integrated medical technologies that help eye specialists to better diagnose and treat patients. Over the years, the company has evolved from a small scientific laser company to the leader in developing cutting-edge medical technologies to treat glaucoma, retinal disease primarily caused by diabetes, secondary cataract, vitreous opacities and age-related macular degeneration. Since 1985 Ellex has manufactured and distributed ophthalmic laser and imaging products for use in the fight against blindness. Ellex is constantly pushing the envelope in terms of what ophthalmic technology can accomplish. Today, more than 30,000 Ellex ophthalmic laser and ultrasound systems are in use worldwide.
For more information about Ellex and its products, please visit www.ellex.com.
Release ID: 179468