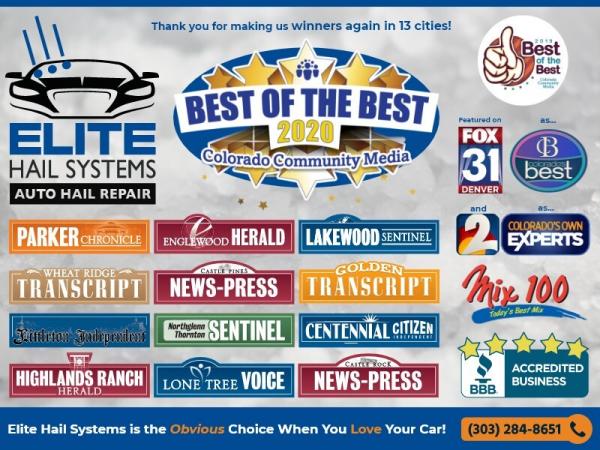 - August 25, 2020 /PressCable/ —
Elite Hail Systems, an award-winning automotive hail restoration company headquartered in Colorado's Denver Metro area, announces the opening of a new hail repair facility in Amarillo, TX. The auto hail repair shop is located at 1201 NE 24th Ave in Amarillo. While the Texas Panhandle routinely sees its share of hail, a well-place June 19th storm struck the heart of the city, leaving thousands of people with expensive damage on their cars and trucks.
Robby Searfoss, Founder and CEO of Elite Hail Systems, said, "We're accustomed to helping huge numbers of people at our home location in Denver. We're right in the middle of Hail Alley that gets more hail than anywhere. Certain areas of Texas aren't far behind. When we saw how heavily impacted Amarillo was, and the shortage of help available for people right now, we decided to grab a building and put our team to work helping people out."
Elite Hail Systems has become a top choice for automobile owners who've been victims of Mother Nature, as Elite's business model includes not just the expected professionalism and service; but they also routinely cover the insurance deductible for their customers, and provide a rental vehicle at no cost during the repair process, resulting in a net zero out-of-pocket cost to consumers.
Elite's unusual business model allows Elite Hail Systems to assist auto owners who might otherwise simply ignore or be unable to handle the problem and end up losing thousands of dollars in the value of their vehicle. It also allows them to continue growth and expansion in order to help even more people.
Rob Nelson, Sales Manager and a Partner of the organization, said: "Almost no one understands that those almost invisible dimples on their car are absolutely devastating to the value of the vehicle. We see good people taking a hit for 5, 6… even 8 thousand dollars, all because they had no idea the hail damage was even there, or they thought it was cosmetic and very minor, and they had no idea how bad it is, or how easy it is to take care of it. Unfortunately they find out when they go to trade the car in, turn in a leased vehicle, or if they find themselves involved in an accident while they have thousands of dollars in pre-existing damage. We really love being able to help people avoid these common nightmares. That's why we're here."
Having just won the 2020 Best of the Best Award for Paintless Dent Repair in 13 different Denver metro area cities, Elite Hail Systems would appear to be well-equipped to assist people in the Amarillo area from their new facility at 1201 NE 24th Ave, Amarillo, TX 79107.
Consumers seeking help can reach out to Elite Hail Systems with a simple visit, online at https://elitehailsystems.com/amarillo-auto-hail-repair/ or by calling (806) 310-7130.
Release ID: 88974067