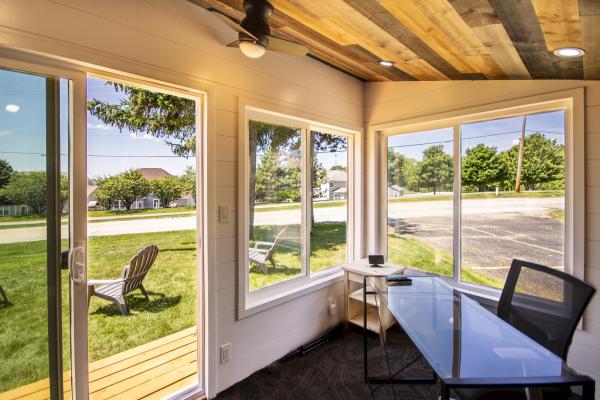 - February 14, 2022 /PressCable/ —
The recently released video report highlights the versatility of the fully insulated, waterproof structures. As demonstrated in the new video, customers have total creative freedom over the design, features, add-ons, and purpose of the shed.
The video report can be accessed by visiting, https://youtu.be/FQyo6thwghk
While INshed's structures were initially intended to satiate the demand for home office solutions during Covid-19 closures, their potential uses have since expanded. After experiencing a surge in business amid the pandemic, the company began branching out into more imaginative uses for their sheds.
Many customers have been getting creative with design ideas by creating art studios, she-sheds, man-caves, luxury playhouses, and guest spaces.
The innovative custom sheds have recently disrupted the Air BNB, guest house, vacation rental, and bed and breakfast industries by offering private, Covid-friendly outdoor dining and recreational spaces. The sheds can be designed as quaint cottages, bistros, and tiny backyard pubs to easily accommodate social distancing protocols.
Recent studies that surveyed employers from across the country found that if given the choice, many businesses would maintain some or all of their remote positions. More than thirty percent of employees interviewed stated they wanted to continue working from home, solidifying future demand for the structures as quiet backyard offices.
When it comes to designing an INshed, there are plenty of interior and exterior finishes, materials, colors, and extra features to choose from. Off-the-grid solar panel kits, heated floors, Bluetooth connectivity, bathrooms, and kitchenettes can all be incorporated.
All sheds are 100% waterproof, fully insulated, and come with 15-year architectural shingles and insulated sub-floors. Every shed also includes on window, door, and outdoor light fixture, a 50-amp electrical hook-up, and electric heat and air conditioning. Skylights and extra windows can be added as well.
Although the company is based in Illinois, their portable sheds can be hauled anywhere in the lower 48 states, with shipping costs depending on location.
A satisfied customer said, "Having an INshed on my property has allowed me to focus better on my work and keep all of my work stuff away from the kitchen table."
Interested parties can watch the video, learn more about the company's innovative sheds, and start designing an INshed by visiting, https://youtu.be/FQyo6thwghk
Release ID: 89063042