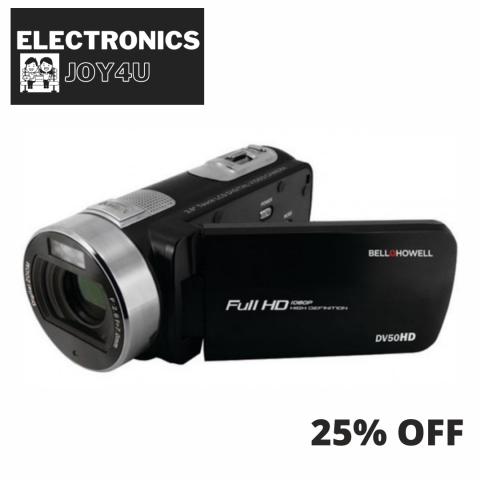 - November 1, 2020 /NewsNetwork/ —
ELECTRONICSJOY4U announces its online store, with electronic products at competitive prices. They sell a wide range of high-quality electronics and accessories.
For more information visit their website at https://electronicsjoy4u.com
With this announcement of its products, the company aims to provide its customers with good quality electronic gadgets and accessories, at reasonable rates. Their range of electronic products includes digital and surveillance cameras, speakers, headphones, smartwatches, monitors, and tablets.
The ELECTRONICSJOY4U online store has a range of DSLR cameras in different models, with numerous features such as high pixilation, touch screen LCD, built-in LED lights and USB port, Automatic face detection, and Anti-shake image stabilization. They sell waterproof and underwater cameras. They also sell digital backup camera monitors in BOYO vision. Portable and instant sharing cameras are also available.
ELECTRONICSJOY4U has 15.6" to 21.5" inch monitors with LCD, LED, HD displays, with touchscreens, with a warranty of three years. They sell auto-detection battery monitors and battery fuel gauges. Some of the leading monitor brands stocked by them are Acer, Asus, HP, and Lenovo.
They sell speakers from brands such as BIC American, Bogen, Boss, Cerwin, and more. They have a wide range of coaxial, two way off, and two pack speakers that are suitable for indoor and outdoor use, and can be fixed on ceilings and walls. Customers can purchase high-quality headphones from leading brands such as Avid, Califone, DDI, Ergoguys, and more.
Customers of ELECTRONICSJOY4U will find smartwatches with cameras and Bluetooth, with screen size up to 1.5 inches. They also sell charging cables and screen protection for smartwatches. Customers can get portable batteries for gaming devices, smartphones, MP3 players, headsets, and speakers.
Buyers can get FREE shipping on orders above $75 and for orders below $75, the standard shipping rate is $9 from the USA warehouse. ELECTRONICSJOY4U is offering holiday discounts on products from 25% to 60 %. Customers can get a 25% discount on cameras, a 60% discount on headphones and a 40% discount on speakers. Subscribe to get special holiday coupons.
For more information visit their website given above or call them on +1-862-259-2425.
Release ID: 88983722