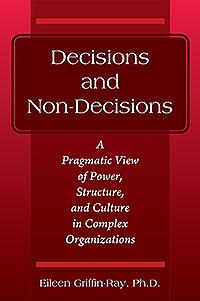 - February 9, 2022 /PressCable/ —
Outskirts Press, Inc. has published Decisions and Non-Decisions: A Pragmatic View of Power, Structure, and Culture in Complex Organizations by Eileen Griffin-Ray, Ph.D., which is the author's most recent book to date. Deftly constructed at 153 pages, Decisions and Non-Decisions explores decision-making and the creation of a culture of non-decision in complex organizations. The book addresses the role of power, structure and ethics of individual leaders and the impact on organizational culture. An authoritative leader can suppress contributions while and indecisive leader can develop a culture of ambiguity in an organization. The book details the realities and consequences of both extremes and considers the space in between. The optimum structure for effective decision making is explored. How does a non-decision maker or culture of ambiguity or anarchy occur?
With U.S. wholesale distribution through Ingram and Baker & Taylor, and pervasive online availability through Amazon, Barnes and Noble and elsewhere, Decisions and Non-Decisions meets consumer demand through both retail and library markets.
Eileen Griffin-Ray is also a media contributor for the Heartland Daily News and Geesa Credit Union. She has extensive experience in business on matters ranging from finance, money and labor markets to political and economic subjects. She has been appointed to government commissions and served on committees analyzing and reporting on labor and educational issues. She has researched and written about public policy, freedom and free markets, government regulation and overreach as well as various business and financial topics. She has written articles including coverage of the rise of violence, crime and anarchy, defunding the police and the prison abolition movement, critical race theory (CRT) and anti-American curriculum in public schools, efforts to eliminate merit-based systems, and others. Her doctoral dissertation was on leadership and decision-making, exploring power and culture. She is the author of books, white papers, and articles. Griffin-Ray holds a B.A., M.B.A., and a Ph.D.
S.T. Karnick is the director of publications, a research fellow for The Heartland Institute, and the managing editor of Budget & Tax News. He had this to say about Dr. Griffin-Ray:
"Eileen Griffin-Ray is a dedicated researcher-writer whose contributions to Budget & Tax News have expanded and enhanced our coverage of important issues such as the ongoing urban unrest and riots and their implications for public safety and municipal tax revenues; the lack of government, taxpayer, and parental oversight of public school teachers' curriculum choices; and trends in government spending and their effects on the economy at the local, state, and national levels. Ms. Griffin is dedicated to making a difference by informing the public of important issues and events."
For more information on this book or Eileen Griffin-Ray, please go to EileenGriffin-Ray.com.
Release ID: 89063301