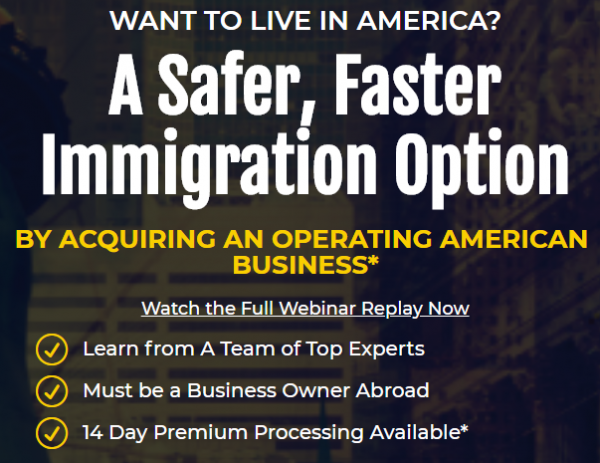 - June 10, 2020 /PressCable/ —
Mr. Edward Beshara, the managing owner of Beshara Global Migration Law Firm PA recently hosted a webinar with a new focus on L-1 and EB-1c visas. Mr. Beshara has been practicing U.S. Immigration Law and offering approvable solutions since 1983. He represents corporate and individual clients from all countries worldwide in regard to their business and family U.S. Visa goals.
Jonathan Matzner of EIC Technology was the co-host of the webinar and shared his many years' experience as a United States Visa Officer for the US State Department with posts in Africa and The United Arab Emirates. The webinar had over 50 attendees who were primarily foreign business owners interested in migrating to the United States through acquiring established American businesses.
During the webinar, Mr. Matzner addressed the increasing interest and perceived benefits of immigration through the acquisition of American businesses. He also announced the launch of EIC's new "Immigration Through Acquisition" website. For any business owner interested in the world of U.S. immigration through acquisition, this launch will be worth paying attention to, as it is set to add a realistic and fast option for U.S. Immigration. This has become particularly important in the U.S. immigration community due the recent changes in the EB-5 program.
Mr. Matzner was quoted in the webinar as saying; "by professionalizing and systematizing the acquisition of qualifying US businesses by foreign business owners, we can present strong immigration petitions that are complemented by a conservative business plan. This will allow foreign investors the opportunity to move their families quickly to the United States while investing in its economy and US Businesses."
Mr. Beshara was asked for his opinion about the packaging of an L-1 and EB-1c visa application and said; "The EB-5 visa may be acceptable for those investors who don't mind waiting for 2 ½ to 4 years to obtain CPR (Conditional Permanent Residency) and 6 to 8 years to get their permanent green card. However, for investors looking for a path with a shorter timeline, the L-1/EB-1C visa option can provide an immediate L-1 entry in a few months and permanent residency for most countries in an estimated 12 months green card. The choice depends on the aspirations, goals, timeline, and eligibility of the particular petitioner."
He went on to say; "The present is the ideal time to start the visa process. It is the time to start, to plan, to do due diligence. It is the perfect time for potential clients to discuss the business goals with Jonathan and I, and to develop an immigration strategy that supports their move to the US."
To speak with Mr. Beshara and Mr. Matzner regarding this new initiative, or to view a recording of the webinar, go to www.usimmigrationthroughacquisition.com/beshara
Release ID: 88962123