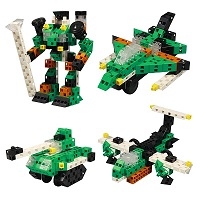 - July 4, 2015 /PressCable/ —
The team behind educational learning toy Click-A-Brick is pleased to read that increased online shopping for toys is a major trend in the global toy industry, as outlined in a recent report published by Daedal Research entitled Global Toys Market – Opportunities and Forecasts: 2015 Edition.
This trend bodes well for Click-A-Brick, as the toy is currently selling on Amazon and through the Click-A-Brick website. Co-Founders of Click-A-Brick Jason Smith and Georg de Gorostiza decided to concentrate their efforts on online sales while the brand gets established, with its flagship 30-piece Animal Kingdom Safari set and 100-piece Army Defenders sets.
Smith says the report is validation for the company that the move to focus exclusively on online sales to begin with was a good decision.
"We knew that we would be online-only for a while when we started," Smith said, "and that's gone well for us. Starting the company, we had a goal in mind to appeal to the savvy online shopper and grow the brand enough to eventually get into physical stores. We think we've managed to attract those online shoppers and seeing in this market report that online shopping for toys will continue to grow is great news for us and tells us we made the right decision. The convenience and savings of shopping online should be enjoyed by toy shoppers as much as people looking to buy anything else."
However, the Click-A-Brick entrepreneurs do find it troubling that according to the same report, toys are the least researched item of all categories of online shopping. Smith says while he's happy to see more people are turning to the internet to make their toy purchases, that's no reason for them not to do their due diligence and research the toys they're considering buying.
"Part of the great thing about online shopping is that it's so much easier to research products," Smith said. "With tons of online reviews from both professional outlets and consumers alike available for shoppers, we encourage them to take some time to browse what's available and read about the toys they're considering buying. Especially with educational learning toys, you need to put in at least some time to read about them because they're not all created equally."
Smith recommended online shoppers to start with the consumer reviews of the toys they are considering purchasing and then move to the professional reviews and doing both general searches for the toy and specific 'News' searches for the toy to see what comes up. By incorporating 'News' searches into their research, Smith explains, shoppers will be able to see if the toy has been involved with any controversies like recalls or lawsuits.
Release ID: 85715