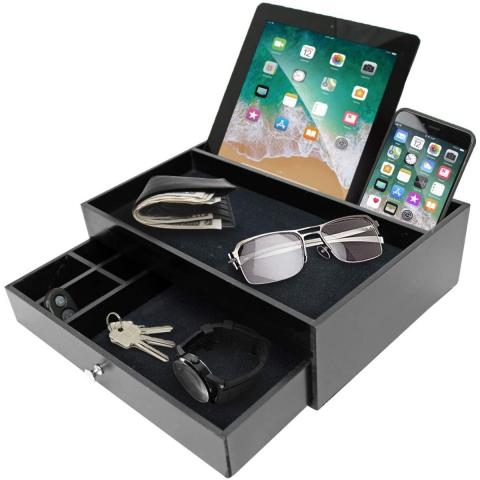 - July 21, 2021 /PressCable/ —
Ultimate Deals has announced the launch of new nightstand and office desk organizer trays for men. The everyday carry valet trays are designed to store gadgets as well as pocket-sized valuables, and are small enough for travelers to take on trips.
For more information see https://www.amazon.com/Valet-Organizer-Key-Tray-Men/dp/B079BB7FVJ
The newly launched product is available in the US and around the world, providing customers with essential storage solutions. Ergonomically designed with the appearance of a jewelry box, the new container is suited as an ideal gift for Father's Day, anniversaries, birthdays and other celebrations.
The valet tray is suitable for men who often misplace their belongings at home. Surveys suggest that the inability to locate essentials such as car keys or wallets prior to leaving the home is one of the most common causes of lateness among employees and commuters. As such, the new product enables them to save time by gathering their items in a hold-all organizer.
Customers can benefit from an array of compartments and divided sections that allow for simple storage in one compact area. They can utilize the valet tray to separate loose accessories and smaller essentials at home such as eyeglasses, cash, cell phones and keys. Further, its composite wood material ensures long-lasting durability.
Company representatives explained that the valet tray also acts as a central safekeeping location when traveling. Customers who frequently stay in hotels while on business trips can keep the EDC organizer on their nightstands and store important belongings such as passports or cards.
In addition, the organizer features two slots at the back to allow wires and cords to slip through. This enables the EDC tray to double as a charging station, with ample space for mobile devices such as phones and tablets.
One satisfied reviewer said of the valet tray via Amazon: "It's very handy and stores all of my husband's items. The drawer provides a sense of privacy. He now keeps his keys, wallet, phone, smartwatch, spare change, pen, headphones, and miscellaneous things he usually loses all in one organized place. He's super happy about this simple and inexpensive gift."
Interested parties are invited to visit the above URL to learn more about the new EDC desk and nightstand organizer trays for men.
Release ID: 89037720