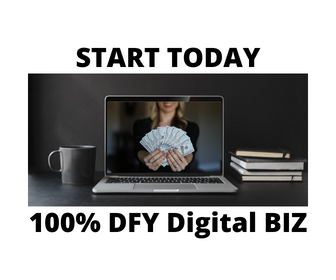 - December 7, 2021 /PressCable/ —
Digital sales training site RCS Digital Ventures has announced the launch of a new webinar that focuses on teaching individuals new methods required for generating revenue and how to invest in an online business.
As part of the newly launched webinar, participants will be able to take the "side hustle quiz" to determine what kind of business venture is best for their lifestyle and personality. Eleven different side hustles will be discussed so participants can learn about various types of online businesses.
More information is available at
https://www.visiblyrich.com/public/pages/a8ea316a-aa02-4c54-924b-5dd9bf3a50ab.html
The webinar and side hustle quiz were created to help potential business owners obtain the training they need to get started in the online industry. Webinar participants will also hear the stories of several young entrepreneurs who started online stores from scratch before going on to earn passive income. By creating this training session, the producers of the webinar aim to inspire would-be entrepreneurs to find the confidence to take their first steps into the e-commerce world.
The idea of passive income has gained popularity in recent years, attracting the attention of some of the world's wealthiest investors including Warren Buffett. With online sales expected to reach 4.8 trillion dollars worldwide by the end of the year, e-commerce has become one of the most lucrative industries for passive income generation. If properly executed, an online store can prove an evergreen source of revenue.
RCS Digital Ventures offers participants access to high-quality training at no cost, to help build the next generation of online marketers.
The webinar begins by introducing participants to a former office worker and a college student who both earn residual income through advertisements shown on their blogs and stores. Participants receive an overview of the steps these individuals took in their business journies and are offered advice on avoiding common e-commerce pitfalls.
Various marketing methods are also discussed including how to drive sales without cold calling or pushing products. These methods are ideal for participants who may be uncomfortable pitching merchandise to customers. Students are also taught how they can purchase a ready-made online store and start earning money without having to devote resources to business set-up costs.
With the latest webinar announcement, RCS Digital Ventures remains committed to helping first-time e-commerce professionals find the resources they need to set a business and transition from the 9-5 world.
"We want to help those interested in making money online follow their dreams and start their ideal business." said a spokesperson for the company. "By participating in this free webinar, participants will come away with a solid understanding of e-commerce methods of passive income generation."
Interested parties can find more information on the new RCS Digital Ventures webinar by visiting
https://www.visiblyrich.com/public/pages/a8ea316a-aa02-4c54-924b-5dd9bf3a50ab.html
Release ID: 89055650