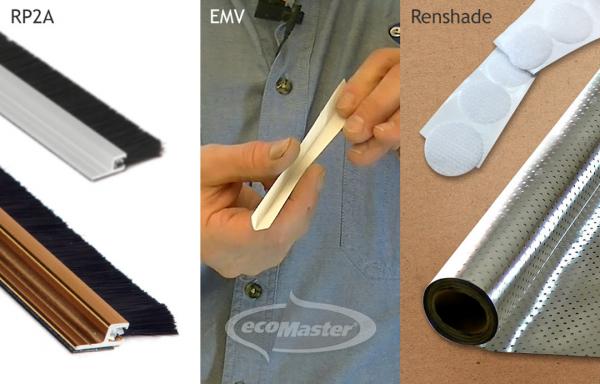 - February 22, 2019 /NewsNetwork/ —
RENTERS can now protect their homes from the searing heat brought by summer without making the slightest structural change to their rental property. This improves a home's thermal efficiency and lowers the need for cooling.
To help renting families keep their homes cool amid sweltering temperatures, ecoMaster introduces it latest variety of DIY draught proofing and insulation solutions: The Cooler Rental Home Bundle.
This kit consists of low cost, removable components that can be installed without the help of a tradie. It includes two low cost door treatments for the sides and top of a door (EMV Perimeter Seal) and a good quality removable brush for the bottom of a door (RP2A Draught Excluder). The kit also includes a very effective window shading solution, Renshade Reflective Foil.
"We love to supply only products that really work well. The Cooler Rental Home Bundle is no exception. The path to keeping your home cool in the hot summer is to keep the hot air out and to reduce the solar radiation coming through the glass. This kit is designed to do just that," says ecoMaster Chief Technical Officer, Maurice Beinat.
Preventing the radiant heat from doors
Gaps and cracks around the doors are a source of air leakage. Mr. Beinat explains that uncontrolled air flow can increase energy consumption and makes a home difficult to heat and cool. In many homes, draughty areas can potentially leak out 50 percent of heating and cooling energy.
"In the summertime, cool air from inside of your home is exchanged with the hot air from outside. If you have an air conditioner, it will be working overtime as your expensive cooling escapes through the draughty areas," Mr. Beinat says.
This makes draught proofing an essential step to improve thermal comfort and efficiency. The Cooler Rental Home Bundle gives renters the ability to totally draught proof two doors, stopping air leaks from all sides of a standard door.
A simple yet effective weather seal, the EMV Perimeter Seal is a self-adhesive plastic in the shape of a 'V'. It is used to create a tight seal on doors and windows. The EMV is fitted to the top, the latch side, and hinge side of the door. It can be installed when there is at least 2 mm of clear space.
The RP2A Door Draught Excluder helps prevent draughts from coming in under the bottom of doors. Whilst it can assist with zoning wet rooms, it can also be used for front and back doors. The RP2A door brush seal is sufficiently dense to stop air infiltration as it is fitted to the bottom of the door. It is effective when the door is closed.
Averting solar heat and glare from glass windows
Glass windows and pergolas can let in massive amount of heat into your rooms in summer. To prevent heat flow, shading techniques must be in place. This helps keep your cooling requirement to a minimum.
Renshade Reflective Foils is a retrofit solution designed to deflect heat and glare away from windows. A great alternative to solar control films, Renshade is made of foil-laminated and perforated silver material. This helps provide a view of the outside while still letting 15 percent of light into your home. Renshade can also be used to shade polycarbonate pergolas. It can be easily removed and put aside during the colder months.
The Cooler Rental Home Bundle is now available at the ecoMaster Store. For fast, easy, and convenient installation, subscribe to ecoMaster Australia on Youtube for a library of intallation instruction videos.
Release ID: 484916