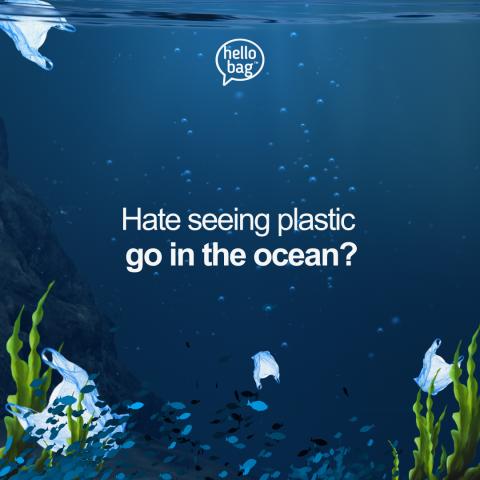 - March 29, 2021 /PressCable/ —
Hello Bag has announced the launch of its 'hello bag' frame that helps reduce the waste of paper bags by making them reusable while also offering a more eco-friendly alternative to single-use plastic bags.
More information is available at https://www.hello-bag.com
The newly launched frame from Hello Bag allows customers to add a firmer and rigid structure to paper grocery bags which lets them be reused as economical waste bins, sorting device and other assorted tasks around the house and garden.
While single-use plastic bags are a common item in day-to-day life, the long-term use of non-degradable plastic is well known as having a damaging impact on the environment. Paper bags, however, are more eco-friendly, but their durability and structure make them less ideal for daily use. Hello Bag's newly launched frame offers a solution to this problem by helping customers to reuse their paper bags.
The 'hello bag' frame has been designed to fit standard-sized grocery bags and consists of four support legs with a square base. The frame uses a snap-in construction method for easy assembly and disassembly so it can be packed away when not in use. To ensure the 'hello bag' is able to be kept clean, the frame's materials can be safely washed whenever required.
Hello Bag's frame gives a paper bag the structure and durability it needs to be suitable for a range of tasks around the home, such as storing fruit, composting, recycling, storage, and mobile uses such as camping, picnics and tailgating. Furthermore, by allowing users to reuse their paper bags, the frame can save them money while also protecting the environment.
Founded by Christopher Blaul, the 'hello bag' frame was initially created to help his grandparents, who frequently reused their paper bags but found they were too flimsy for many tasks. Over time, Christopher realized he could help reduce the need for single-use plastics for others by making the 'hello bag' frame available to everyone.
More information on the launch of Hello Bag can be found at https://www.santabarbara.com/dining/news/2020/12/22/environment-friendly-hello-bag-launched-in-santa-barbara/?fbclid=IwAR3eX-nJCy-70oZ4aTBUiKl1PLFFKNZbMFVAWxCwU5IPVPiMU5pxw0Z4S48
As an eco-conscious business, Hello Bag has also teamed up with Sprout, a company that is actively working to plant trees worldwide. Hello Bag's collaboration gives customers who purchase a 'hello bag' frame a voucher for planting a tree that can be redeemed through the Sprout App.
A recent customer of Hello Bag said, "A great innovation. I love how convenient it is to use, the multiple uses I've found for it, and how it enables me to reuse my paper bags and help save the planet."
Interested parties can find more information by visiting https://www.hello-bag.com
Release ID: 89003076