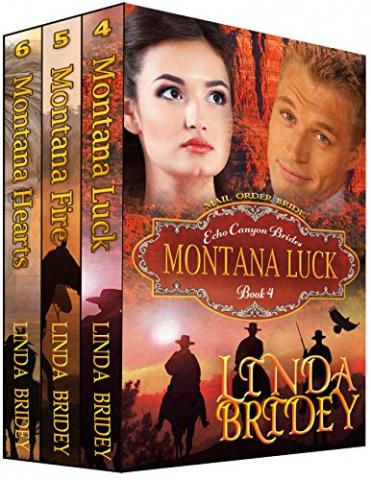 - July 25, 2020 /PressCable/ —
Romance novelist Linda Bridey has released the second part of her Echo Canyon Brides Box Set Series. This second version of the series also comprises another three romance stories.
Details can be found at https://www.amazon.com/gp/product/B019B815PK
As is the case with the first three novels of the series, each of the newly released books four to six are standalone from the others. They give readers insight into the fictional lives of a single-parent father, a famous bounty hunter, and a Cheyenne brave. Each of the novels also centers around the mail-order bride theme.
In Book 4: Montana Luck, readers are introduced to Lucky Quinn whose former wife left him, with their son, for another man. With the notion that his child needs a mother in his life, the heartbroken man puts up an ad for a mail-order bride.
This ad is answered by Leah Carter, a skilled cobbler is in search of a husband with whom she can start a family while at the same time retaining her profession. The budding romance of the two is threatened by unforeseen events, leaving it dependent on good fortune to keep smiling on them.
Book 5: Montana Fire details the story of bounty hunter Thad McIntyre who lands himself three instant children whose mother was murdered. Given that his hectic profession doesn't allow him enough time to spend with his three children, Thad sets out on a quest to find them a replacement mother.
The new father of three soon encounters Jessie Alderman, a widow whose husband's death had forced her into selling her farm, leaving her desperate for financial security. As a fiery romance flare sparks between the two, terrible events, inclusive of the arrival of a mysterious stranger in Echo Canyon, threaten their happiness.
The final novel in this second series, Montana Hearts, tells readers about Wild Wind of the Cheyenne tribe. In his search for a wife, Wild initially put in a mail-order bride ad which is only answered by women requiring that he converts to Christianity.
Having already gone through a terrible relationship and eventual breakup with a pastor, Wild is against the notion of converting from his faith. He soon meets Roxie Ryder and discovers that she has been harboring feelings for him for a long time. As their love grows amid danger and mystery, outside influences threaten to drive a wedge between them.
The second edition of the Echo Canyon Brides Box Set Series is available on Amazon in e-book and audiobook forms. The audio can be found at https://www.amazon.com/Echo-Canyon-Brides-Box-Set-audiobook/dp/B01KG1CAGY.
With her three enthralling stories of love rising out of heartache, Bridey encourages readers to dive into gripping tales of love, heartbreak, and danger. As readers indulge in the stories, they will be eager to find out whether romantic bliss is on the horizon for Echo Canyon at last.
Interested parties can click on the links above to find out more or to make a purchase of the books.
Release ID: 88969289