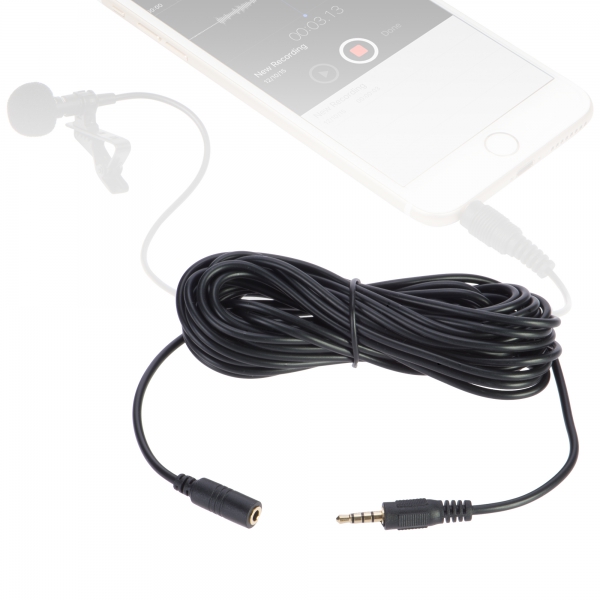 - August 26, 2016 /PressCable/ —
Eaton Productions, a leader among premium smart phone accessories, has today announced the release of its latest product: a 20-foot microphone extension cable, to compliment and extend the range of its flagship product – the lavalier clip-on omnidirectional lapel microphone. Both products are available for purchase now and are compatible with most models of iPhone or Android devices.
The 20-foot extension cable works seamlessly with any 3.5 mm TRRS microphone jack, and is constructed with the most rugged, high quality connectors and cable on the market. The same goes for the lapel microphone, which is designed and constructed for serious, repeated use in rugged environments. Both products are offered with a 1-year, no-questions-asked satisfaction guarantee. The introduction of this 20 feet long extension lead means that recording can now be done with the mobile device further away from the subject. The lapel microphone lead is 6.5-foot – and is long enough to be a used short distance away from a tripod. The extension lead is an excellent addition to a home studio setup when recording the subject from a further distance is required. It can also be used to connect an iPhone, iPod, MP3 player, CD player, smartphone, tablet or any audio device with a 3.5mm headphone jack to a headset with microphone, credit card readers, car, office or home audio system.
"From day one, Eaton Productions has always designed products with the serious professional in mind," CEO Michelle Eaton says. "We understand that as journalists, bloggers, or anyone creating digital content rely more on their mobile devices to complete work, they need premium, reliable tools to handle any curve balls their jobs might throw at them, and this is where we come in."
While many current models of cell phones offer reasonable inbuilt voice recording and sound recording features, there is currently nothing on market designed to truly maximize recording quality, and the need could never be greater. As platforms such as Facebook Live and YouTube Live become more prolific among content creators, so too are the tools needed to maximize the quality of the work being published through either service.
"We have been so blessed by our amazing team of product engineers, and even more blessed by a continually-growing customer base that really values the passion we put into every product," Eaton says. "We are thrilled by the positive reception of early adopters who are using our products, and we are very eager to see what the near future has in store for our company as we continue to grow."
Release ID: 129610