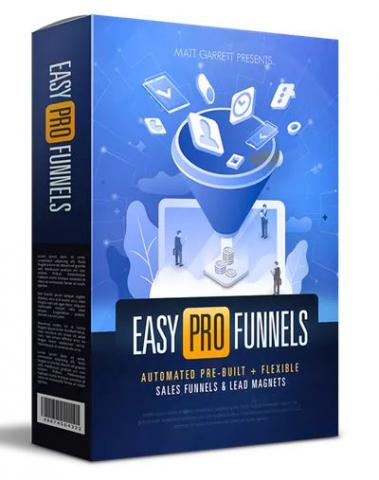 - March 25, 2019 /PressCable/ —
Matt Garrett has announced the launch of Easy Pro Funnels, a powerful new software that makes it easier for entrepreneurs to design their own funnel-based marketing systems. It is the ultimate marketing tool that reduces the time it takes to bring in leads, make more sales, and design effective and engaging websites.
More information can be found at: http://letsgolook.at/EasyProFunnels_
The site explains that the product creator, Matt Garrett, has been working full time online for over 10 years and in that time has worked on a range of products.
Easy Pro Funnels is his latest venture and was created to make it easier than ever to succeed online. It is designed for entrepreneurs who want to sell products or services in any field.
For startups, beginners and even experienced entrepreneurs, it can be difficult to start on a new project. This is where Easy Pro Funnels can help, because it designed to streamline the launch and design process.
Easy Pro Funnels is a web based app that removes every barrier from the route to success for customers. It is a software solution that provides customers with the tools they need to ensure their venture is as successful as possible.
Its most powerful feature is that it makes the process of setting up a site much faster, while also providing key tools and solutions to make more sales. When using Easy Pro Funnels, customers won't need access to their own products or even a website, because the tool does everything they need for them.
Among these tools include the ability to offer and deliver bonuses and free offers when people subscribe to the site owner's list. All this can be created in just a few clicks, saving both time and money.
Users will be able to create custom lead magnets, add unlimited free products, and create a one-click autoresponder. In addition to this, they can easily create review style pages to promote any product.
Full details can be found on the URL above, with additional information provided at: https://muncheye.com/matt-garrett-easypro-funnels
Release ID: 494954