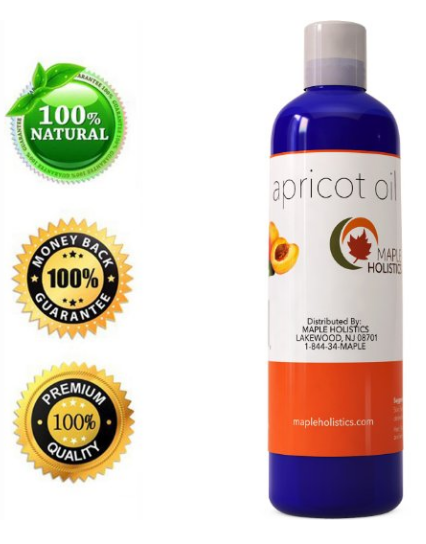 - July 25, 2016 /PressCable/ —
Maple Holistics has introduced a new product to its highly successful and acclaimed line of all-natural personal care products: Apricot Seed Oil for skin, hair, and anti-aging. Available for purchase now through the Maple Holistics website, the Apricot Seed Oil is one of the best carrier and massage oils for sensitive skin, featuring medium viscosity and easy blend with other essential oils.
Boasting a moderately long shelf life, Maple Holistics Apricot Seed Oil absorbs easily into the skin. It is one of the most popular aromatherapy oils available because it can be effectively mixed with other ingredients. Ideal for massage or aromatherapy experiences, the 100% Pure Apricot Oil is perfect for use on the face, skin, nails, and hair. It contains vitamins A, B, C, and E, as well as a large amount of antioxidants which work together to help moisturize and prevent free radical damage. Apricot seed oil is light enough for everyday use and will not cause buildup or weigh down hair. It also contains a large amount of Omega 6 fatty acids and vitamin E, which studies have shown can stimulate hair growth and promote scalp wellbeing.
The oil contains no silicone or sulfate ingredients, which is safest for color treated hair. The oil is cruelty-free, paraben-free, hypoallergenic, made in the USA, contains no artificial colors or harmful ingredients, and is packaged in environmentally friendly, BPA-free bottles.
One of the best ways to prevent premature aging is to neutralize the free radicals that cause cell damage. Apricot Seed Oil contains a large antioxidant profile which allows it to effectively neutralize free radicals. The presence of vitamins A (retinol), C, and E may help further protect cell membranes from free radicals. This may help reduce sun damage that causes wrinkles and fine lines.
The release of Maple Holistics Apricot Seed Oil follows the successful launch of Maple Holistics' Argan Oil, Avocado Oil, Eucalyptus Essential Oil, Grapeseed Oil, and other acclaimed all-natural personal care products. Maple Holistics personal care products make up one part of its multi-faceted line of natural products which boast the purest and highest quality ingredients used in each product, maximizing the therapeutic potential for each specific area of health.
About the Company
Maple Holistics provides industry leading, all-natural hair, body, and skin products. The company offers a natural, holistic range of premium products which can enhance hygiene, health and daily living. Company products are made in the USA.
Release ID: 124510