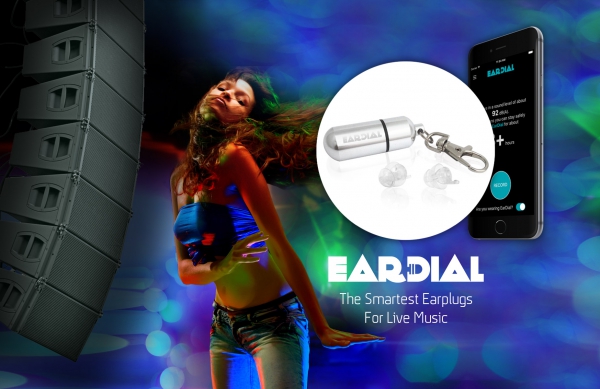 - September 21, 2016 /PressCable/ —
EarDial announced today that it is raising funds via a crowdfunding campaign to finish the development of the world's most discreet earplugs for live music with companion mobile app.
According to the WHO (World Health Organization) nearly 40% of all teenagers and young adults in middle and high-income countries put themselves at risk of NIHL (Noise Induced Hearing Loss) with damaging volumes in entertainment venues. That's a lot of people who might permanently damage their ears. Once lost, hearing cannot be restored.
Experts agree that long exposure to levels of sound over 85 dB can cause hearing loss. Most clubs and concerts are over 100 dB. The maximum safe-time without protection at that level is around 15 minutes.
Not only are young people unaware of this risk, but they don't want to wear earplugs as they assume that they won't enjoy the same quality of sound. This might be true for the freebie foam earplugs handed out in some venues: they do offer hearing protection, but they also block some of the sound frequencies that people want to enjoy when listening to music. Some other people don't want to use traditional "musician" earplugs which are sometimes brightly coloured and unstylishly stick out of their ears.
The company wants to address that with today's launch of EarDial – The Smartest Earplugs for Live Music.
EarDial is a comfortable and discreet hearing protection, specially designed for live music. Its high fidelity and precise noise filtration allows the user to hear music and chat with friends while being protected from harmful sound frequencies, and without sacrificing the quality of the sound. In fact, EarDial will enhance the music experience for most people, because they remove the ear-pain that results from loud music. What makes EarDial special is it's low-profile design and high-transparency colour, which makes them almost invisible when placed in the ears, regardless of the wearer's skin colour. EarDial comes with a compact carrying case and a companion mobile app. The app informs the users of the sound level around them, and how long they can safely stay, with or without earplugs. The app will be available for free on iOS and Android, and it will be useful even without owning EarDial earplugs.
Although EarDial was designed with music events in mind, it is also suitable for other loud social events, such as in sport arenas or cinemas.
EarDial is on a mission to create awareness and let people enjoy loud social events while protecting their hearing. Five per cent of its profits will be donated to charities such as Dangerous Decibels or Action Hearing Loss. Supporting EarDial also means supporting a good cause.
Jesús Carrera, founder of EarDial, says: "I started EarDial because one day I came out of a nightclub with my ears ringing so much that it lasted for days. Later, I learnt that the ringing means a percentage of my hearing would be lost permanently. From that day I wanted to protect my hearing in venues, but traditional 'musician' earplugs were too bulky and colourful. EarDial is not only for musicians, but also for people listening to music."
A working prototype has already been produced, and after the campaign is funded, it will be tested and certified by a specialised laboratory in Germany. After that the first batch of production will start.
EarDial hopes to start shipping in December 2016. They believe it will be the perfect Christmas present for music lovers, party-goers, DJs, musicians, bartenders, bouncers and anyone that wants to hear clearly and safely in a loud music event.
Early adopters can participate in the launch of EarDial on Kickstarter by visiting https://eardial.com/kickstarter/.
Release ID: 133164