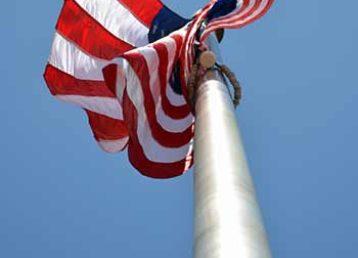 - August 8, 2020 /PressCable/ —
Earlier today, Eagle Flag & Supply finally announced the beginning of its new Ffags, flagpoles and banners online service, which has been in development since 2019. The main aim is to have a new website to respond patriotically during these challenging times…. but it does so, with a difference. Their aim is to treat each and every customer like family and that makes all the difference.
Tammy Ferguson, Owner at Eagle Flag & Supply, says: "We wanted to try something new with this Flags, flagpoles and banners website. Anyone familiar with the Flags, Flagpoles and Banners market will probably have noticed how most companies are large. This is a problem because personal attention is always best."
Eagle Flag & Supply which has been in business for 35 years wanted to provide access to their products in a safe, efficient manner during the current pandemic and beyond. Tammy Ferguson, owner, stated "we have been without a website for about a year, and we felt that now was the time to focus on providing our customers with an opportunity to show their patriotism while purchasing online."
Eagle Flag and Supply is proud to say that their products are made in the USA and include U.S. Flags, State Flags, Military Flags, Country Flags, Patriotic Banners, Flagpoles and more. Ferguson added that "It is more important now than ever to show our pride and support in our American flag and what it means. The colors of our flag are symbolic; red symbolizes hardiness and valor, white symbolizes purity and innocence, and blue represents vigilance, perseverance and justice. These symbols are all very important to us and the fabric of America right now".
The new Flags, flagpoles and banners service is set to officially launch August 1, 2020. To find out more about the service and Eagle Flag & Supply, it's possible to visit https://www.eagle-flag.com
Release ID: 88971879