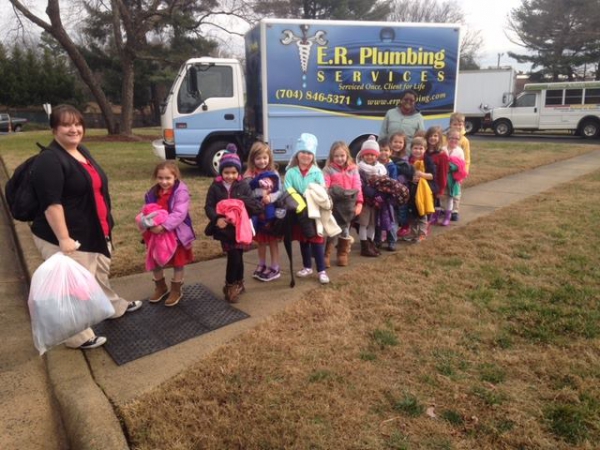 - February 6, 2017 /PressCable/ —
The WSOCTV Channel 9 Steve's Coats for Kids Winter Coat Drive has come to an end. E.R. Plumbing Services, Charlotte plumbers offering 24/7 service to the Charlotte metro, is part of the Channel 9 Family Focus partnership, and as such, the company is a part of charitable campaigns such as the winter coat drive. Parker announced the numbers of coats collected in January 2017. The coats are cleaned and then distributed to kids in need in the Charlotte area through Crisis Assistance Ministries.
"The Charlotte community has done amazing things and donated a record 21,636 COATS to Steve's Coats for Kids," said Dave Parker, owner of E.R. Plumbing Services. "That is over a thousand more coats than last year. Thanks to incredible partnerships and the hard work of many volunteers, a number of those coats were cleaned and on the rack at Crisis Assistance Ministry within fifteen hours of being donated."
"For a child in need, these aren't just coats," says Parker. "A new coat will help keep a kid's head held high and gives an aspect of dignity to that child's life."
"Without the strong commitment of E.R. Plumbing Services staff, it would not be possible to meet these goals. E.R. Plumbing Services employees manned donation locations, got the word out, and worked hard to ensure coats were collected and delivered to the proper locations."
"The staff worked hard," said Parker, "but that's just par for the course when it comes to E.R. Plumbing morale, attitude, and commitment. The techs and office staff alike are committed to chipping away at poverty in Charlotte. It's a lofty goal, but E.R. Plumbing is determined to make a difference in every way possible."
To learn more about the charitable efforts put forth by the Charlotte plumbing company, visit the company site and the company blog.
Release ID: 167196