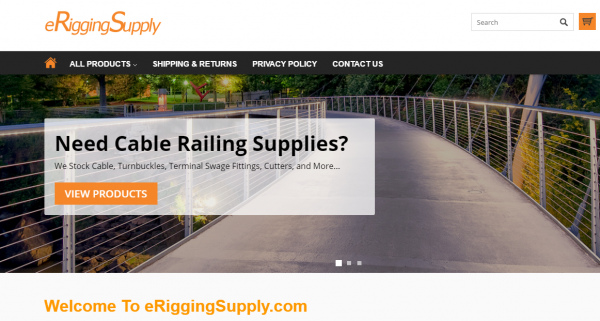 - November 25, 2016 /PressCable/ —
Jacksonville, Florida – November 22, 2016 – eRigging Supply, an ecommerce store that features a large selection of high-quality rigging supply products and tools, announced today their steadfast move towards providing an even better shopping experience for their current, as well as new customers. They have already implemented numerous changes online including a cleaner and easier to navigate website redesign and increased sitewide SSL security.
"There's generally a reason why consumers choose to shop at one store over another," explained Gerry Howe, founder and senior marketing consultant at Howetek Creative. "When you have stiff competition, the goal is to first match their level of quality and then exceed it. eRigging Supply was simply missing some important elements already showcased by their top competitors."
Gerry also stated "by the time we are done, this store will be at a whole new level. They already had incredible prices. Now they are going to have an online store that will make shopping for rigging products a breeze, as well as provide the kind of security desired by online shoppers."
eRigging Supply stocks a large inventory that includes cable railing. Due to how much stronger and more durable cable railing is over wood and plastic, it's often the preferred material for constructing stairs, decks, and bridges. eRigging Supply also carries wire rope, steel cable, turnbuckles, shackles, stainless steel chain and fittings, cargo control and other various products to meet any rigging related need.
In the very near future eRigging Supply will also be making significant changes to their pricing model. Cable railing cable that was once only available in reels of 200 and 500 feet will soon be available in any length based on a customers need. This will come as a welcomed surprise to anyone tired of paying for more cable than needed for a project. By 2017, eRigging Supply hopes to be the go to online destination for any consumers needing rigging products.
Release ID: 149688