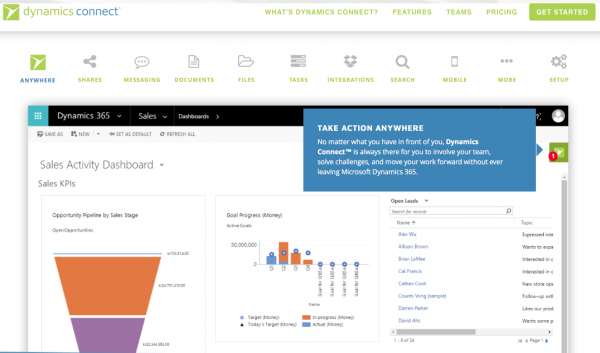 - February 13, 2017 /PressCable/ —
Dynamics Connect release brings team communication and collaboration to a whole new level in Microsoft Dynamics 365.
Earlier today, Playa-Vista-based Incentive Inc. announced the launch of Dynamics Connect, providing the ONLY fully embedded solution in Microsoft Dynamics 365 so everyone can collaborate more effectively with team chats, co-authoring documents, sharing files, delegating tasks, and social networking.
According to Incentive Founder and CEO Rickard Hansson, Dynamics Connect offers significant enhancements to Microsoft Dynamics 365 users…
"- All your work, all in one place. No matter what you have in front of you, involve your peers and experts to excel, solve challenges, and move your business forward without ever leaving Microsoft Dynamics 365.
– Fully functional right out of the box. Add Dynamics Connect to your Microsoft Dynamics 365 installation through AppSource and be up and running in minutes. No customization needed.
– Easy to use, zero learning curve. Dynamics Connect will instantly appear for all users, increasing their productivity by up to 4 hours per week.
– Optimized for Microsoft Dynamics 365 Business Edition. With a low, fixed monthly subscription fee, including unlimited users and feature complete, Dynamics Connect is optimized for organizations with 10-250 employees."
Hansson goes on to say that "anyone with even a passing interest in the world of organizational collaboration and team communication will want to see how Dynamics Connect works, because it will make team collaboration so much faster, easier, and less expensive."
CEO Rickard Hansson continues, "We built Dynamics Connect because we believe that Microsoft Dynamics 365 will be a major force in SMB enterprise success with their Business Edition and we want to add our knowledge and experience to SMB success by providing the best possible team communication and collaboration supporting the competitive advantages Microsoft Dynamics 365 will deliver."
Adding Dynamics Connect to Microsoft Dynamics 365 is easy. Companies go to Microsoft AppSource and minutes later they have a full-fledged communication and collaboration platform completely embedded within their Microsoft Dynamics 365 implementation. No customization is needed.
According to Robert Hess, Incentive Chief Operating Officer, "The average user can expect to save around 4 hours per week chasing information and lost emails by using Dynamics Connect."
Incentive is hosting a free webinar "Be more productive in Microsoft Dynamics 365" showcasing Dynamics Connect on February 14th.
ABOUT INCENTIVE
Incentive is a leading provider of CaaP – Collaboration as a Platform – for mid-market organizations and enterprise teams that want to achieve improved team communications, increased efficiency, and accelerated business results. Incentive is an easy-to-use and affordable platform that enables businesses to capture, collaborate, and secure knowledge "all in one place" by tapping the power of their employees, who are "the collective brain trust," to be better, stronger, and faster than their competitors.
Incentive enables users to take advantage of existing workflow apps, storage systems, and document management tools, such as Microsoft SharePoint and Microsoft Dynamics 365, in one central location, with single sign on and intelligent search. Its features include wikis, blogs, micro blogging, document collaboration, file sharing, instant messaging, video conversations, and social behavior UX.
Incentive is an API-based platform for app development. Founded in 2014, Incentive has helped thousands of customers worldwide accelerate positive business outcomes through improved collaboration and communication. Incentive can be deployed in the Cloud or on-premise for greater information and communication security. The company has headquarters in Los Angeles and in Malmo, Sweden. For more information, visit https://www.incentive-inc.com/.
Contact
Robert Hess
Robert@Incentive-inc.com
(310) 752-9944, Ex. 1
Incentive Inc. 12655 W Jefferson Blvd Los Angeles, CA 90066, USA
* Will be available on AppSource shortly – for early access sign up here.
Release ID: 168581