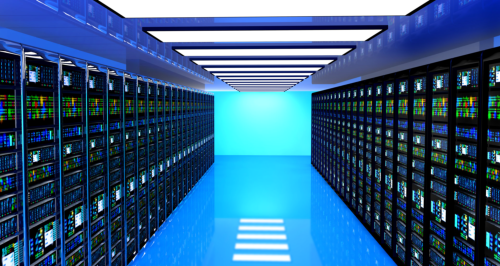 - February 12, 2021 /PressCable/ —
Data centers are ubiquitous in modern life. Used by companies large and small, from retailers to social networks to schools and more, there are over 3 million data centers of varying sizes in the United States alone. Worldwide, data centers are estimated to account for about 1% of global electricity use as they transfer and manipulate the information that sustains our societies.
The information technology equipment (ITE) used in data centers generates a large amount of heat, which is dangerous to the equipment itself. A number of different cooling methods are used to draw this heat away from sensitive components. Of these methods, liquid-cooling options are more efficient than air-cooling, allowing for better thermal protection.
In indirect cooling methods, a heat sink built into the ITE comes into contact with a coolant, which draws the heat away. The electronics themselves are kept isolated from the fluid. In immersion cooling, the ITE components are directly in contact with the fluid which absorbs the heat. In this case, the fluid clearly must be non-conductive in order for the electronics to function.
Dynalene recently launched a product line consisting of three categories of fluids that could meet various data center needs:
1. Dynalene LC Series. A line of low electrical conductivity glycol products. Because they are water-based, they offer better thermophysical properties than non-water-based fluids and they are non-flammable. The non-ionic inhibitor package keeps the electrical conductivity low, reducing the risk of electric shock as well as the risk of leaks causing short-circuits. The inhibitors are compatible with the copper, aluminum, brass, and stainless-steel components often used to construct electronic cooling systems. Dynalene's LC fluids can be made with propylene glycol, ethylene glycol, or bio-based 1,3-propanediol (BioGlycol). These fluids should not be used for direct immersion cooling, and use with carbon steel or cast iron is not recommended.
2. Dynalene Glycol Series. Our standard inhibited glycol fluids. They are less expensive than the LC series, but if used for electronics cooling there is a risk of short circuits or electric shock if leaks occur. These fluids are best used for applications such as an HVAC system for comfort cooling, as their ionic inhibitor package provides corrosion protection for the carbon steel and cast iron parts often used in those systems. Like our LC series, these fluids can be made with ethylene glycol, propylene glycol, or BioGlycol.
3. Hydrocarbon Fluids: Dynalene SF, HT, MT, and LO-230. These dielectric fluids can safely be used for direct immersion cooling because their electrical conductivity is close to zero, greatly reducing the risk of shocks and short circuits. Their high flash points (ranging from 160 to 212°C) mean they are well suited for use in open bath applications. These hydrocarbon products are a good alternative to fluorocarbons due to their lower cost and lack of greenhouse gas emissions.
Dynalene is an ISO 9001 company that has been in operation for 20+ years. Products are shipped from our three US locations to facilities all over the world, in quantities ranging from single gallons to 5000-gallon bulk containers. Our active R&D program that has worked on Small Business Innovation Research grants from the United States Departments of Energy and Defense, out of which came some of the products in the data center coolant line.
For more information on the data center product line, contact Dynalene at 610-262-9686
Release ID: 88997106