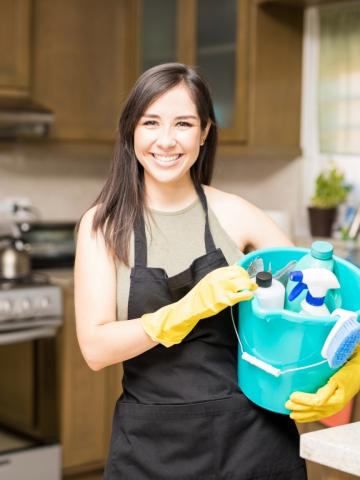 - May 26, 2021 /PressCable/ —
May 25, 2021
Not all Texas cleaning services are created equal. Finding the right one to use and then stick with can be a huge relief, saving time, energy, and even money while keeping an apartment or house looking its best. Fortunately, a new company with remarkably high standards, Dusty Maids Cleaning LLC, is answering the call. Dusty Maids Cleaning, who recently celebrated its grand opening, is offering top professional maids and cleaners covering the extended Houston and Sugar Land areas. Not only are the cleaning services done with the highest attention to detail, but the company even offers a money back satisfaction guarantee. Local customers couldn't be happier with the new firm.
"Dusty Maids Cleaning understands how important it can be to either have access to a professional cleaner that can be counted on on a regular schedule or that can be brought in for some kind of important, special occasion," commented a spokesperson from Dusty Maids Cleaning. "They took a look at what was happening in this space in Houston and weren't impressed. They knew they could do a better job. And that's exactly what they are building our business around. Call us and see the big difference first hand."
To help clients balance their cleaning budgets when compared to the level of service they require, Dusty Maids Cleaning currently offer three different cleaning options.
The first choice available is the Standard Clean. The Standard Clean is a maintenance clean. This is appropriate for homes that have had a professional deep cleaning done within the month, and are now are bringing in a maid to clean and maintain a high level of cleanliness and hygiene.
The second choice available is the Deep Clean. Deep Cleans are for homes that have not had a professional cleaning done in the last month and adds cleaning many different items and areas that are not covered in the Standard Clean. This will leave a home ready for Standards Cleans for months after. Usually one or two Deep Cleans a year will keep things under control.
The third option is the Moving Clean. This is for clients either moving out of or moving into an apartment or house. It is an extremely thorough cleaning job, getting everything as close to perfect as possible. Our company has won local praise for making sure houses and apartments look great before they are put on the market, a must if someone wants to rent or sell a space as quickly as possible.
Local feedback for Dusty Maids LLC have been completely positive.
Brandon W., from Houston, recently said in a five-star Yelp review, that he was very impressed with the thoroughness of the job Dusty Maids did on my apartment. If you look at their pricing, it's a pretty good deal for getting an entire 1 bedroom/bath combo done. Fully recommended."
For more information be sure to visit https://www.dustymaidscleaning.com.
###
Release ID: 89019557