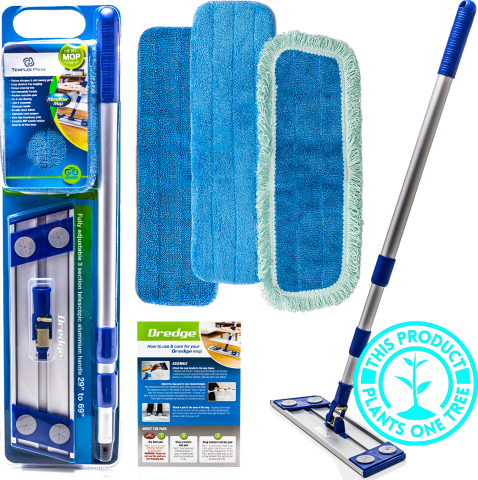 - January 6, 2021 /PressCable/ —
Temples pride, the creator of the Dredge microfiber mop has revealed the results of a test where they compared two types of hardwood laminate floor cleaning methods. The two methods that were compared were the loop mop and bucket and a flat microfiber mop. The results revealed that the flat microfiber mop produced a more polished finish than that of the loop mop method.
The test was created to see which method would be able to apply the same hardwood cleaning product with the best end results. Regarding the cotton loop mop, no matter how often the angle or position of the mop head was changed, the end result always ended up leaving streaks including some dull patches. For the flat microfiber mop, there were no streaks or dull patches. The reason for this could be to do with the fact that the flat mop is microfiber which is able to hold seven times its weight in water thereby minimizing any extra moisture that might get left on the floor.
"The issue with a cotton loop mop is that you really don't have much control over it when compared to a microfiber flat mop," says Brian from Temples pride. "If you think about it, the strands on a loop mop are free to move around and do what they want. This causes a lot of unevenness in the process of mopping thereby giving uneven results."
He continued, "Compare that to a flat microfiber mop and you have a world of difference. The flat mop's pad is always under steady pressure from the user holding the mop. This steadiness combined with microfibers great water retention results in an even application of the cleaning solution."
Temples Pride was founded in 2015 with a mission to provide an environmentally friendly & effective microfiber floor mopping system. To further support their mission, they are dedicated to reducing their environmental impact by helping to protect critical forest habitat. For every mop that they sell, they plant 1 tree.
More information about Temples Pride and the Dredge microfiber mop is available on their website.
https://www.amazon.com/Professional-Microfiber-Resistant-revolutionize-Experience/dp/B01AZLM64G
Release ID: 88991292