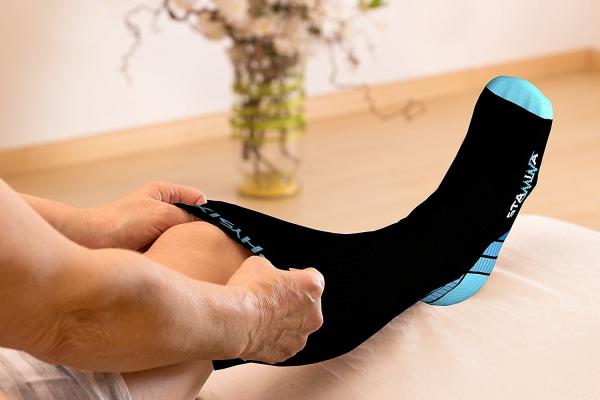 - February 28, 2020 /PressCable/ —
Miami-based company Physix Gear Sport launches their new compression socks for both men and women. The sock are designed to be used not just by athletes, but also nurses, travellers, pregnant women, and other people who could benefit from the relief that calf compression brings.
Additional details can be found on the company's website at: https://www.physixgear.com/products/best-compression-socks-for-nurses-athletes-men-women-20-30-mmhg-graduated-fit-for-running-shin-splints-flight-travel-maternity-pregnancy
The newly launched products are built to last with their durable yet comfortable construction. Made out of antibacterial lycra fabric, the double-stitched socks can be washed without worrying about losing compression and their vascular toning benefits. They are easy to put on and are breathable, so they can be used in hot climates with the excessive sweat buildup.
Physix Gear Sport developed their compression socks to provide relief for issues like varicose veins and leg swelling. According to a study, varicose vein pain and swelling could improve within a week of wearing 18 to 21 mmHg compression socks. The products by Physix Gear Sport have a pressure rating of 20 to 30 mmHg.
Suitable for both night and day use, the socks can also help avoid blood clots after surgery. In fact, they are said to fit better than stiffer varieties often prescribed by doctors. Available in a wide variety of colors, the compression socks also offer instant shock absorption, helping to reduce fatigue and swelling in the lower legs.
The socks have been receiving compliments from various customers. One such review reads, "These compression socks are easier to put on and take off than the thick ones that are also twice as expensive. They are comfortable and there is enough room in the toe area. I wear them to cardiac rehab and sometimes all day without feeling uncomfortable."
Those who are interested in the products may visit the above website to read more and place their orders, or they can watch the product video at: https://youtu.be/fyZGNZnoeqI
Release ID: 88948163