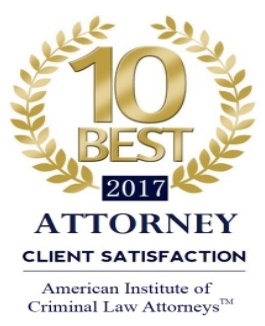 - September 28, 2017 /PressCable/ —
Sacramento, CA – DUI Attorney Ryan Kocot, founder of the Law Office of Ryan T. Kocot, has been awarded the 2017 Top-10 Best Attorney Client Satisfaction Award from the American Institute of Legal Counsel. This award is recognition for outstanding commitment to his clients that have been charged with Driving Under the Influence penalties. Any award from the American Institute of Legal Counsel is extremely coveted due to the humbling recognition of commitment an attorney displays for his or her clients; it exemplifies the utmost dedication and professionalism in and out of the court of law.
Attorney Kocot has always strived to meet the needs of his clients, understanding that encountering a DUI charge is very difficult and an emotional time for anyone. Whether he's providing legal guidance to clients who have been charged with a DUI for Alcohol, Marijuana, or other Drugs, Attorney Kocot wants his clients to feel safe and at ease.
The prerequisites that are required to achieve such prestigious notoriety require that; 1) the applicant be formally nominated by the institute, client, and/or fellow attorney; 2) have attained the highest degree of professional achievement in his or her focus in law; and 3) having done so with an impeccable client satisfaction rating amongst all clients. When asked about the meaning of this award, Attorney Kocot had this to say about his achievement:
"It's a great honor to receive an award from the American Institute of Legal Counsel. While this is a humbling surprise, I'm proud to say that this is an example of how much I care about my clients and what they mean to me. It's all about developing relationships and putting the client first so that I can help clients with their DUI charges." – Ryan T. Kocot
Attorney Kocot's primary focus lies within the field of DUI Law. With years of experience in helping his clients fight the complicated matters of obtaining a DUI Charges, Attorney Kocot always starts his case analysis off with a very detailed first consultation at no charge.
This award is just a glimpse in the quality of service clients receive from a DUI Consultation at the Law Office of Ryan T. Kocot. Every case matters, and his clients matter even more – that's what sets him apart from the rest. Look no further for a more professional DUI Attorney at the Law Office of Ryan T. Kocot.
More information about this award and the Legal Services provided by the Law Office of Ryan T. Kocot can be found on his website at https://www.sacramentoduidefender.com/
# # #
Attorney Ryan T. Kocot is a local DUI Attorney in Sacramento, specializing in Alcohol, Marijuana, and Prescription Drugs Litigation with a relentless dedication, a wealth of knowledge and a top priority of the well-being and safety of his clients.
Release ID: 243963