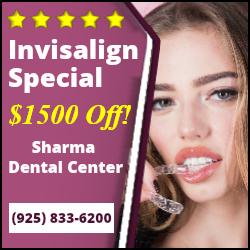 - August 25, 2018 /NewsNetwork/ —
For a limited time, people in the Dublin California area can save $1,500 on Invisalign treatment cost with this Sharma Dental Center Special Offer. Get quality dental work for a great price.
According to clinic owner Dr. Sanjeev Sharma, "As a licensed Invisalign office, our team of dental professionals straighten teeth using a series of aligners. An impression of your teeth is taken first so that a series of aligners can be molded in a dental lab. The material is practically invisible. Patients should wear the aligners for 22 hours a day. Every 2 weeks they need to be switched out with the next one in the series. Over a period of a few months, the aligners will steadily move teeth into place, making one minor adjustment at a time that is targeted to specific teeth. This process helps your teeth be comfortable as they are fixed into position at a manageable pace. Your teeth should be perfectly straight after you are finished wearing the aligners."
For the convenience of patients, Sharma Dental Center is available during extended office hours of 7 a.m. to 11 p.m., seven days a week.
Call (925) 833-6200 to schedule an appointment that will accommodate hectic schedules.
See reviews from happy patients here: https://dentistreviews.link/sharma-dental-center-reviews
Treatment Time
Overall, the treatment time is usually less than with metal braces. For the majority of patients the procedure takes about 12 months.
Appointments do not have to be scheduled to keep the teeth moving. All that has to be done is to use a new aligner.
Watch this video for more information: https://dentistreviews.link/invisalign-special-offer-dublin-ca
Benefits of Invisalign
• Invisalign® is more convenient than traditional braces.
• The aligners are clear and less noticable than traditional braces.
• They are only worn for 22 hours a day and can be taken out to eat dinner, etc.
• Brush and floss the teeth normally.
• Less risk of stained teeth compared with wearing metal braces.
• More comfortable than metal braces since the aligners move teeth into place slowly and only focus on a few teeth at a time.
• Aligners are easy to take care of, and the same aligner is only used for a couple of weeks.
In the news: Sharma Dental Center has been in the news lately. https://dentistreviews.link/dublin-ca-dentist-news-sharma-dental
Areas serviced:
Livermore, Fremont, Walnut Creek, Pleasanton, Hayward, San Ramon, Dublin, San Leandro, and the entire Bay area
Release ID: 396521