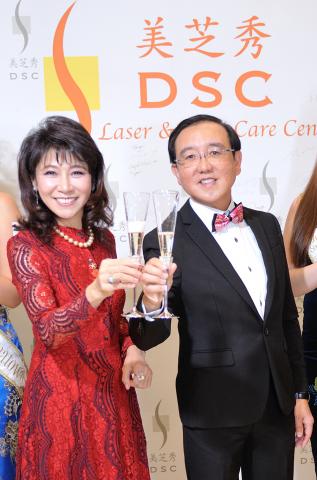 - November 23, 2019 /NewsNetwork/ —
Dr. Tony Shum, CEO, and Mrs. Kitman Shum, COO, at DSC Laser and Skin Care Center have been delightfully serving the community in wellness, beauty, and grace.
Dr. and Mrs. Shum had an opportunity to visit Chile back in March 2019 with the Global Federation of Chinese Business Women and paid a visit to FUNDALURP which is an organization for the blind to help them with guide dogs and show them how to be self-sufficient. Dr. and Mrs. Shum were very touched by their services and made a commitment to donate some mobility canes for such a meaningful cause. At its 14th Anniversary, DSC Laser and Skin Care Center helped raise funds to donate two guide dogs and purchase 60 mobility canes to send to FUNDALURP in Chile.
Mrs. Shum has been volunteering for the past fourteen years at the Look Good Feel Better Foundation, a workshop formerly by the American Cancer Society, in helping cancer patients and survivors with wigs and make-ups in order to build up self confidence in trying times.
As Look Good Feel Better became an independent organization in 2019, though its mission remains the same, it is now maintained by its own fund-raising effort. Mrs. Shum saw the need in keeping it active and donated the necessary funds in late 2019 to bring back the Look Good Feel Better Foundation workshop in the greater San Gabriel area for Chinese speaking participants. Mrs. Shum learned that there were twelve patients and survivors eagerly waiting for its reactivation.
In addition, DSC donated $2,000 worth of treatment for auction during a charity event in November 2019 at the San Marino Chinese Club and Chinese School of San Marino.
Moreover, DSC donated $1,500 to the Chinese American Museum in support of the ongoing effort in celebrating the growth and development of the Chinese American community.
We are very excited in our upcoming Thanksgiving visit to Brookdale Walnut Assisted Living and Memory Care bringing skin care products, and more importantly, some love to the elderly.
To finish well at the end of 2019, joining by Santa Claus, DSC will celebrate Christmas season with our dear customers on Saturday, December 14, 2019 in the afternoon in gift give aways, special promotions, and most importantly to share our experience in wellness and health.
With the tireless effort in yearly give back to society, Dr. Tony and Mrs. Kitman Shum emphasis that it is truly more blessed to give than to receive.
For more information on Dr and Mrs Shum, go to https://www.dscbeauty.com/.
Release ID: 88935629