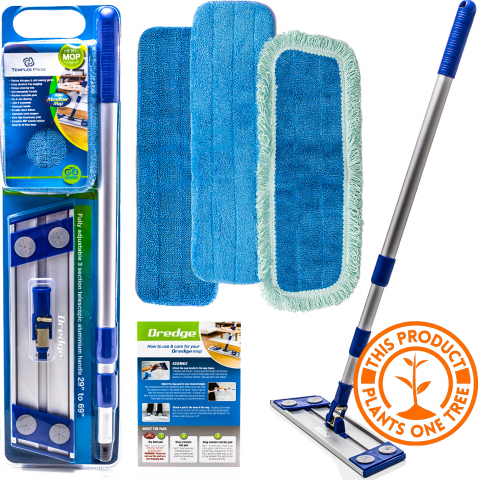 - January 4, 2021 /PressCable/ —
Temples Pride, the creator of the Dredge microfiber mop kit has reported their highest sales ever in a single month for their microfiber mop since the beginning of selling on Amazon. They report having sold over 6400 microfiber mops in the last 30 days.
Over the last few weeks, there have been countless occurrences of cleaning products either being in low supply or having been completely sold out. This is due to people being at home more and, with the threat of the coronavirus everywhere, people are cleaning more. Another big contributor to the cleaning spike and more specifically, floor cleaning, could be due to a couple of studies that have come out over the last few months regarding the transfer of the coronavirus on the floor with shoes.
"The last few weeks have been absolutely wild," Said Brian from Temples Pride. "We have been getting orders of a couple of hundred mops at once. The biggest single order was for 320 mops. We certainly feel that the latest trend in cleaning has something to do with the spike in orders. I'm guessing that more and more people are just now learning about microfiber's ability to remove germs. Especially now during these times when people are searching for the most effective cleaning methods."
Microfiber mops are widely used by hospitals. They remove germs, unlike cotton that moves them around. Microfiber mops are invaluable to hospitals because they solved the problem of room to room cross-contamination by stopping the spread of germs from mopping.
Temples Pride was founded in 2015 with a mission to provide an environmentally friendly & effective microfiber floor mopping system. To further support their mission, they are dedicated to reducing their environmental impact by helping to protect critical forest habitat. For every mop that they sell, they plant 1 tree.
More information about Temples Pride and the Dredge microfiber mop is available on their website.
https://www.amazon.com/Professional-Microfiber-Resistant-revolutionize-Experience/dp/B01AZLM64G
Release ID: 88991300