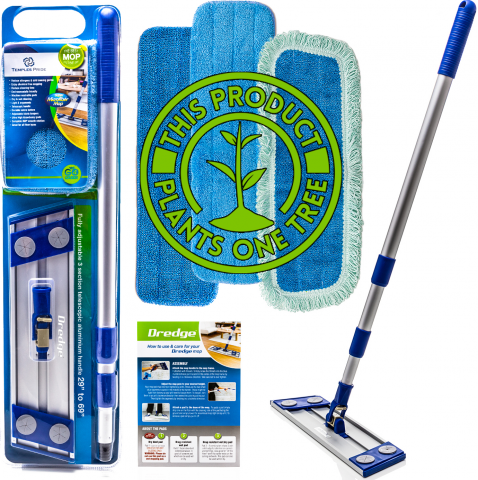 - December 19, 2020 /PressCable/ —
Temples Pride, the creator of the Dredge microfiber dust mop for hardwood, tile, laminate & vinyl floors, conducted a study to see whether or not their microfiber floor duster pad would be able to clean the floor as good as a vacuum cleaner would. The results showed that the microfiber dust pad did a better job at removing dust off the floor including dirt that was not actually visible.
The study was conducted inside a five-bedroom home with laminate wood flooring. The house was not cleaned for one week before the test. Six areas in total were chosen for six separate tests, four bedrooms, the lounge, and a large passageway. Each of the test areas was divided into two sections using white tape. All windows were closed to avoid possible site contamination. Each section was then cleaned according to the method prescribed to it.
Care was taken to avoid walking on any area that had been cleaned. Once all the rooms had been cleaned, a regular clean wet-wipe was used to wipe a portion of each section in each room. When wiping the sections of the floor that were vacuumed, a dirty black layer was left on the white wet-wipe. When the sections that were cleaned using a dust mop were wiped, there was no discoloration of the wet-wipe indicating that no dust was present.
"The test was a real eye-opener", said Brian from Temples Pride. "We have always known that the Dredge dry dust pad does a really great job of picking up dust. However, only when actually compared side by side to a vacuum do you really appreciate what an amazing job the pad actually does. The results were literally like night and day when comparing the wet-wipes. What we found to be quite interesting was that you could not see that dirty layer of dust on the vacuumed sections that the wet-wipes were picking up. It's basically invisible which ends up potentially getting spread around when wet mopping, if not done properly."
Temples Pride was founded in 2015 with a mission to provide an environmentally friendly & effective microfiber floor mopping system. To further support their mission, they are dedicated to reducing their environmental impact by helping to protect critical forest habitat. For every mop that they sell, they plant 1 tree.
More information about Temples Pride and the Dredge microfiber mop is available on their website.
https://www.amazon.com/Professional-Microfiber-Resistant-revolutionize-Experience/dp/B01AZLM64G
Release ID: 88990226