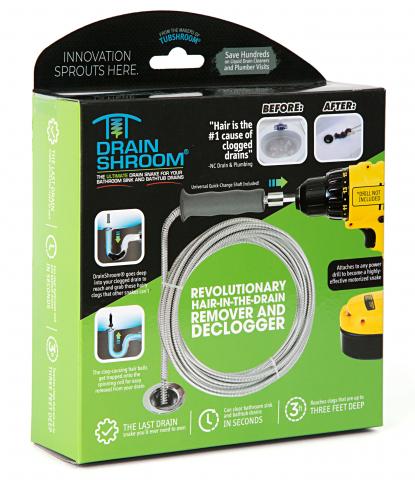 - July 10, 2020 /PressCable/ —
Juka Innovations Corporation dba The Shroom Company announced the launch of DrainShroom, an innovative tub and sink auger snake for drain cleaning. The drill-mounted drain clog removal kit features a 42-inch revolutionary coiled de-clogger with a universal quick-change shaft for easy snake replacement.
More information about DrainShroom is available at https://www.tubshroom.com
The New York-based drain declogging technology company has launched DrainShroom as a superior de-clogging alternative to conventional drain snakes. The product is designed for use in bathroom and kitchen sinks as well as bathtub drains that are up to 3 feet deep.
DrainShroom attaches to any power drill through a universal quick-change snake shaft and functions as a motorized snake. The DIY drain hair cleaning snake features an innovative coiled snake design that traps hair, lint, and other fibers.
The new DrainShroom electric drill-mounted drain hair clog removal auger snake is easy to use and replaces the need for toxic drain cleaning chemicals or expensive plumbers' visits. DrainShroom is available with TubShroom, a drain lint strainer, and a hair trap device.
Visit https://www.amazon.com/dp/B07YBRDV1B to buy DrainShroom online. The product is backed by a 30-day money-back guarantee and comes with a convenient storage pouch.
DrainShroom is available through Amazon to US and international customers.
According to a spokesperson for Juka Innovations Corporation, "We are excited to launch DrainShroom as a significant improvement over conventional drain snakes that have neither the reach nor the cleaning effectiveness of our new product. DrainShroom is affordable, effective, and a great DIY alternative to high plumbing bills."
Juka Innovations Corporation is a specialty drain cleaning and drains protector product company based in Glen Cove, NY. Headed by Serge Karnegie and his wife Elena, the company is the manufacturer of several patent-pending products including TubShroom, SinkShroom, ToiletShroom, and ShowerShroom drain protectors.
For more information about the new DrainShroom drain protector, call 631-393-0986 or visit the URL above.
Release ID: 88967584