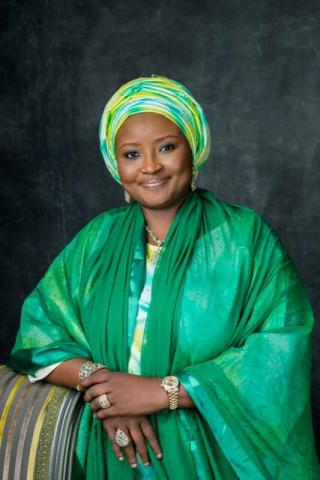 - October 2, 2020 /PressCable/ —
Dr. Zainab Shinkafi Bagudu's Immense Contributions to Cancer Care Awareness and Treatment in Nigeria at 60 Paves the Way for Progress.
Cancer healthcare options in Nigeria have improved due to several contributions from individuals and institutions alike. These contributions have significantly improved the odds of success of patients undergoing treatment. So much so that the prior impossible cases now have a fighting chance of survival.
Dr. Zainab Shinkafi Bagudu is one of those individuals who have staked their lives and their reputations to make this happen. Through her non-profit foundation Medicaid Cancer Foundation, Dr. Shinkafi Bagudu has created a new paradigm. One where private organizations can also bring something to the table. This time, direct-impact models have proven to be an effective way of making a difference.
The Project Pink blue has been able to pave the way for cancer treatment in Nigeria. Others such as the First Ladies Against Cancer (FLAC), have made their contributions as well.
The Nigerian Cancer Society is also one of those organizations that have been at the forefront of Cancer Control in Nigeria. The focus of most of these organizations has brought the monster to its knees.
Dr. Shinkafi Bagudu through the Medicaid Cancer Foundation has been able to reach out to those who hitherto couldn't get access to funding for Cancer treatment.
She has also served as a member of the board of the Union for International Cancer Control (UICC).
Dr. Shinkafi-Bagudu having served a term on the board has brought an immense wealth of practical experience to the job of keeping Cancer at bay. Her nomination for a second term is noteworthy as she would go above and beyond the ambit of the National Cancer Control Plan and other such policy documents.
The Honorable Minister of Health Dr. Osagie Ehanire had this to say about Dr. Shinkafi-Bagudu:
"I have no doubt that Dr. Shinkafi-Bagudu has demonstrated commitment, capacity, due diligence, passion, and empathy in her representation on the UICC board in the first tenure. Therefore, another term (2020-2022) will enable her to consolidate on the goals recorded thus far, and mobilize more governments across low and middle-income countries (LMICs) and Africa to measure commitment to cancer control".
As Nigeria clocks 60, this presents yet another opportunity for moving the fight against cancer one step further. Dr. Zainab Shinkafi-Bagudu stands the best chance of improving the lots of patients who have been ravaged by the cancer scourge through her candidacy and ultimate election to the board of the UICC.
Dr. Zainab Shinkafi-Bagudu said:
"I will be focusing my energy on improving the cancer story in low-and-middle-income countries (LIMC). Evidence has demonstrated that we will not be able to achieve global set targets if due attention is not given to events in these countries".
It puts the responsibility of cancer control directly in the hands of someone who can make it happen.
Dr. Bagudu's active leadership and involvement spans across a broad spectrum of cancer activities that has led to high-level advocacy interactions, engagements, and partnerships with governments, ministries and parastatals, First ladies, Multinationall organizations such as GAVI, CHAI, Roche, Pfizer, UNODC and research organizations- AORTIC, ASCO, AACR. She has successfully used these platforms to advance access to cancer care in Nigeria and Africa. Just recently, she initiated and implemented HPV Vaccination of 100 School girls in Yauri, Kebbi State, which is in line with the World Health Organization's (WHO) global Strategy for the elimination of Cervical cancer.
She successfully worked alongside other civil society organizations, to influence the inclusion of chemotherapy, radiotherapy and surgery to the National Health Insurance Scheme. And also, advocated for the creation of a budget line for indigent cancer patients in the 2020 National budget.
Dr. Bagudu co-founded the First Ladies Against Cancer (FLAC) as well as CSOs Against Cervical Cancer (CCACC). These coalitions are set to to lead national advocacy for access, affordability and acceptability of HPV vaccine. Over 60million girls are targeted to benefit from this initiative.
As it stands, Nigeria at 60 still has a long way to go as regards the implementation of the National Cancer Control Plan.
All hands have to be on deck to ensure that this happens across the board and in other low-and-middle-income-countries (LIMCs) as well.
For more information about this please contact:
About Dr. Zainab Shinkafi-Bagudu
Her Excellency, Dr. Zainab Shinkafi-Bagudu is a Pediatric Consultant, a loud voice in the fight against cancer, and has a longstanding interest in advocating for the rights of women and children. She is the First Lady of Kebbi State, a platform that has turned her into a role model in the state and beyond.
After graduating from Queens College Lagos in 1984, Dr. Zainab Bagudu obtained her MBBS (Bachelor of Medicine) from the prestigious Ahmadu Bello University Zaria, followed by specialist training in Pediatrics and Neonatology in the United Kingdom. Amongst other academic qualifications, she has a Master's degree in Pediatrics, a Diploma in Tropical Child Health, and membership of the Royal College of Pediatrics and Child Health.
Dr. Zainab Shinkafi-Bagudu is the Founder of Medicaid Cancer Foundation (MCF) and the MD/CEO of Medicaid radio-diagnostics Limited.
About the Union for International Cancer Control (UICC)
The Union for International Cancer Control (UICC) is a global body that coordinates the affairs of member bodies across countries in the fight against cancer.
It also serves as a think-tank for new methods of research in the different types of cancer treatment.
Release ID: 88979409