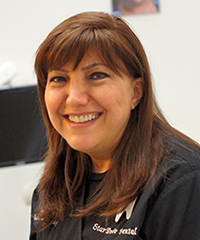 - July 29, 2015 /PressCable/ —
Over the years, Dr. Maryam Seifi has repeatedly distinguished herself in the field of cosmetic dentistry. For attorneys, executives, entertainers, and many other professionals, a perfect smile can be a very important asset. After over 24 years of great service to her patients, Dr. Seifi has now joined the ranks of the prestigious American Academy of Cosmetic Dentistry.
Dr. Seifi, whose clinic is named StarBrite Dental, The Office of Maryam Seifi, located in Rockville, MD, has helped clients from all over the country, and she has worked very hard to debunk some common rumors about dentists, including those that offer cosmetic dentistry. Many people believe that if a person has seen one dentist, then they have seen them all, especially those in the field of cosmetics. However, this just is not so.
"I've been told that I'm a perfectionist in restoring people's smiles," Dr. Seifi said. "While I wouldn't go that far necessarily, I will say that most people should realize that there is definitely an art to what I do."
"My goal is to create a natural smile…, and I have years of experience doing just that," she added. "You might be surprised how we can utilize colors such as grays, blues, yellows, reds, and of course white, to deliver the best smile possible."
Dr. Seifi has experience in restoring unsightly smiles back to perfection. She knows how to correctly utilize porcelain veneers to remedy discolored, uneven, worn-down, or chipped teeth. She is aware of the latest technology in invisible braces that will straighten a client's crooked teeth. Because she is experienced in using the latest technology in this cutting-edge field, she has positioned herself to become a notable member of the American Academy of Cosmetic Dentistry. Dr. Seifi has won many awards, and accolades for her creative, dental work.
About Maryam Seifi, DDS
Dr. Maryam Seifi received her Doctorate of Dental Surgery degree from the University of Maryland. She served as the President of the American Women Dental Association, and was an Honorary Admission to the Prosthodontics and Cosmetic Clerkship. For the past 24 years, cosmetic dentistry has remained her passion, having collaborated with the pioneers in cosmetic and porcelain veneers since the beginning.
For more information, visit https://starbritedentalrockville.com/cosmetic-dentistry-rockville-maryland/
Release ID: 87748